Born at the University of Michigan in the early 1990s, Bristol Harbor Group (BHG) has grown into a diverse and widely respected naval architecture and marine engineering firm. Cory Wood, Vice President and one of the four co-founders of BHG, discusses the companies past and design drivers to power its future.

The University of Michigan runs one of the most prestigious naval architecture and marine engineering programs in the country, but when Cory Wood entered U of M, he did so with the intent of becoming an aerospace engineer. But as luck may have it, he opted for the maritime "fork in the road", a decision he credits with helping to shape his personal and professional life. "At the time the department was maybe 150 people, so you got to know everybody. In hindsight it is the best thing that ever happened to me because I met a lot of people that are good friends and business partners to this day."
The idea for BHG was literally conceived on a plane ride back from the Society of Naval Architects and Marine Engineers (SNAME) conference in 1993, an event attended by a group of about a dozen U of M students. "On the flight back, I was sitting next to Greg (BHG co-founder Greg Beers) and we were talking about how cool it would be to be your own boss. I think our first idea was designing luxury submarines," said Wood. Originally there were four friends that started the company, with Wood and Beers the two remaining today. "At that time the internet was around but nobody was using it; email was around but few people were using it. So we looked at all the sailing, commercial and business magazines to build a database and we sent out about 300 mailing cards to offer our engineering support services."
The company founders settled on Bristol, Rhode Island, as its headquarters, as the original plan was to become renowned yacht designers, as at the time there were more than a dozen fiberglass yacht builders and 10 yacht design offices within 20 miles of BHG's current office. "Rhode Island was a hub at the time," Wood remembers. "In hindsight, if we knew where our careers were going to take us, we probably would have picked something closer to the Gulf of Mexico, because nearly everything we design is built in or for that area."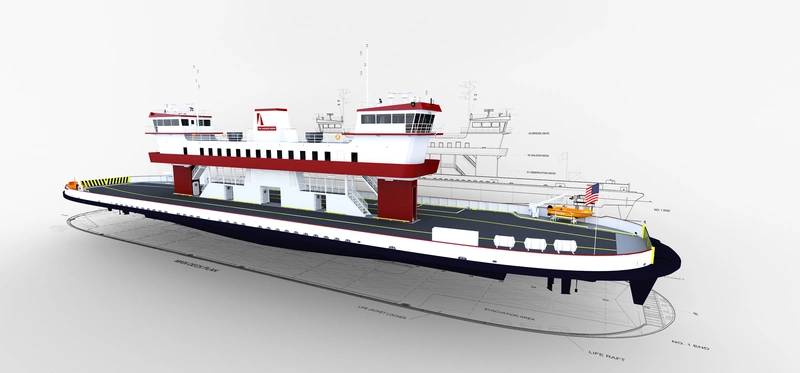 Double-ended ferry designed for Texas. Image: Bristol Harbor GroupHumble Beginnings, Diverse Growth
The team earned its first "paying gig" from a gentleman in Saugatuck, Mich., that wanted a stern wheel paddle wheeler – a real paddlewheeler – designed for use as a dinner/excursion boat. "That was a challenge because no one was really building these anymore, and it's not the type of thing they teach you in school." The boat, the Star of Saugatuck II, is still in operation for Star of Saugatuck Boat Cruises.
The company set up permanent shop in Rhode Island in 1995 and incorporated. "We put up our sign, we opened our doors and we quickly realized that nobody was going to beat a path to our doors to design the next beautiful sailing yacht," said Wood. "But the tug owners, the ferry owners, the barge owners, they all needed a lot of engineering support, and it's the same engineering: it has to float; it has to be strong; it has to be built on-time and on-budget. We quickly started to do a lot of commercial engineering support, which was always the vision that Greg had."
Today there are 23 employees under the employ of BHG and Houston-based sister company The Shearer Group, both companies jointly owned by Wood and Beers. The companies are able to share resources, with BHG focused on the blue water side of the business; and The Shearer Group focused on brown water projects. Wood credits Beers with being the visionary, always looking at trends to determine where the industry and the company should be moving, a key factor he reckons in the company's diversity of the projects, "many more than I ever would have expected."
Today the company's portfolio includes tugs, barges and passenger vessels, but also a number of designs with LNG, diesel/electric hybrid as well as a growing and vibrant business in government support for the U.S. Army Corps of Engineers, Coast Guard, and the Navy.
In fact, much of BHG's bandwidth is being soaked up by government support, engineering that is "light years beyond the commercial work we're doing," said Wood.

The more things change …
While the computer tools available enable and optimize design have changed mightily, Wood contends that the basics haven't changed.
"You still have to come up with a concept, and literally it can come to us on the back of a napkin. Wherever the idea starts, it must then be boiled down to the specifics. CAD has obviously helped to speed that process along, but in my mind, the implementation of 2D and 3D CAD hasn't really shortened the entire design process, but it's allowed us to get a better product. We still take the same amount of time to design something – whether we're drawing it by hand or whether we're doing it on the computer. CAD does allow us to dial in a better solution earlier in the process then detail the drawings to spec."
BHG focuses on concept preliminary and regulatory packages, with detailed production support handled by the dedicated firms. Like its peers, environment and emission regulations are changing the game … rapidly.
"Companies looking to stay under Tier 4 requirements have a lot of interest in the diesel electric hybrid side," said Wood, saying that it has been within the last year or two where clients have really started to "open their eyes to it. They knew it was there, they knew it was expensive, but now they're really interested, because the environmental issues are not going away, and they are pushing us in directions I would have never expected 10 years ago."
Some unique projects of note include the project to incorporate Z-Drives for propulsion on river towboats, a solution that has exhibited demonstrable fuel savings. Wood also notes a marked increase in recent inquiries regarding diesel/electric, diesel/electric hybrid solutions and LNG, a significant advance given the general conservative nature of vessel owners in adopting new technologies.
"We thought LNG was going to be the next gangbuster," said Wood. "It still is going to be, but to a degree it is still a chicken and egg scenario regarding where they are going to fuel."
But that that's changing too, as BHG worked to help design and deliver the innovative new LNG bunker barge built and delivered last year by Conrad. LNG: "The design effort is a time-consuming process and in some ways it's more like rocket science than naval architecture because of the cryogenic nature of the fuel and the complexities that entails."
As the company has grown and gained traction in multiple markets, Wood said that while much has changed, to this day the company maintains a core tenant that has been present since the beginning: "We love to create." It's not just about putting out paper drawings. We are in the business of creating designs with our clients. Early in our history, we had projects on the yacht side where we would get paid for the design, it was a beautiful yacht, and then for some reason or another it wouldn't get built. That's frustrating. We would much rather design something like a deck barge; it's not fancy or complicated, but we know it's going to get built and I get more of a kick out of seeing our designs on the water than on the screen."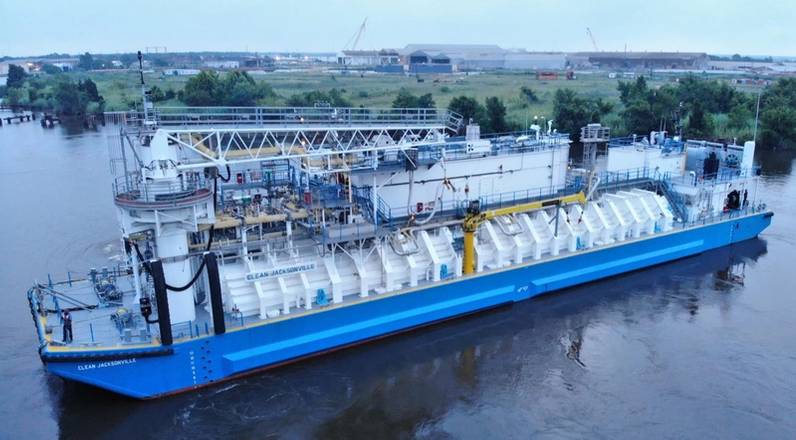 Photo: Conrad Shipbuilding