Apps, big data, tech, software and cutting-edge innovation were hallmarks at last year's Sea Tech conference in Brest, France. During one session, for example, on electronic charting, the speakers made reference to "data as fuel." For vessel operations, data was called a resource just like diesel or LNG or lithium batteries.
The reference was usually to big data, i.e., almost boundless information flowing like a gusher from a firehose, the new force driving applications to set routing, monitor fuel efficiency, optimize speeds, maximize safety and communications and allow real-time vessel controls and, critically, provide new social and entertainment possibilities for crews and families, not to mention emergency information. Looking for ways to exploit big data was an imperative for Sea Tech participants, with one notable being Hyke Ferries and its swarm technology.
"Swarm technology" was part of a discussion titled "New Propulsion Systems For Low-Carbon Shipping." The phrase was used by Jason McFarlane, Chief Technology Officer, Hyke, based in Norway. Hyke is working on "the next generation of waterborne mobility." Its goal: to "upgrade ferries into the modern world."
Hyke's ferries are solar-powered electric vessels designed with intelligent dockside charging solutions and autonomous technologies. Hyke's eventual goal is for completely autonomous operations. These efforts, the company writes, "embody what mobility in a smart city is all about."
"Swarm technology," McFarlane explained, is the capability of an autonomous ferry fleet to network, communicate, respond and act together as market conditions demand.
"Swarm intelligence," McFarlane said, "is the collective behavior of decentralized, self-organized systems, also referred to as swarm robotics. In our application of swarm principles, the idea is that when operating in a fleet each ferry will collect information about its own state and situation in relation to both environment and passenger movements. The information from each ferry will be shared across the fleet and collectively the ferries will have the capability to dynamically adjust their routes to enable the most effective transport of passengers and goods with respect to waiting times and energy effectiveness."
Big data in the driver's seat.
Once the passenger surge declines, swarming ends, and each vessel reassigns itself, but staying in constant contact with, and responding to, supply and demand across the fleet and operating territory.
McFarlane said Hyke is on schedule to launch the first new ferry in Fredrikstad, Norway in 2023. Covid caused some program delays, particularly with deliveries of equipment and materials. The Norwegian Maritime Authority will give final approval for passenger operations; that safety review has started.
Hyke's goal is to provide autonomous operations in 2024. McFarlane said autonomy is a high priority, but the first goal is to get underway. Startup is important for Hyke's larger business plan, McFarlane noted, because "there are many cities that do not have any urban city ferries, so we are in a way creating the market and we have a viable business case without autonomous operations."
Importantly, though, autonomy provides operational opportunities and lowers costs. In addition, McFarlane commented that "it addresses a growing problem – the lack of trained crews." He said that last summer one Norway ferry company in Oslo reduced routes because of crew shortages.
Also important is that the autonomous ferries will still have a crew member on board. That human could intervene in case of an emergency, either with the vessel or among the passengers. McFarlane said the crew member "would not take direct control over the vessel. Rather, they would have an interface to interact with the vessel by issuing specific commands and communicate with a remote operations center."
Swarm technology is expanding. Hyke was one of three groups chosen to deliver and operate four ferries along the Seine River during the 2024 Paris Olympics and Paralympics. The ferries will connect the municipalities of Juisy-sur-Orge, Ris-Orangis and Soisy-sur-Seine in the region Grand Paris Sud. (Hyke was named as one of Time Magazine's best inventions of 2022.)
---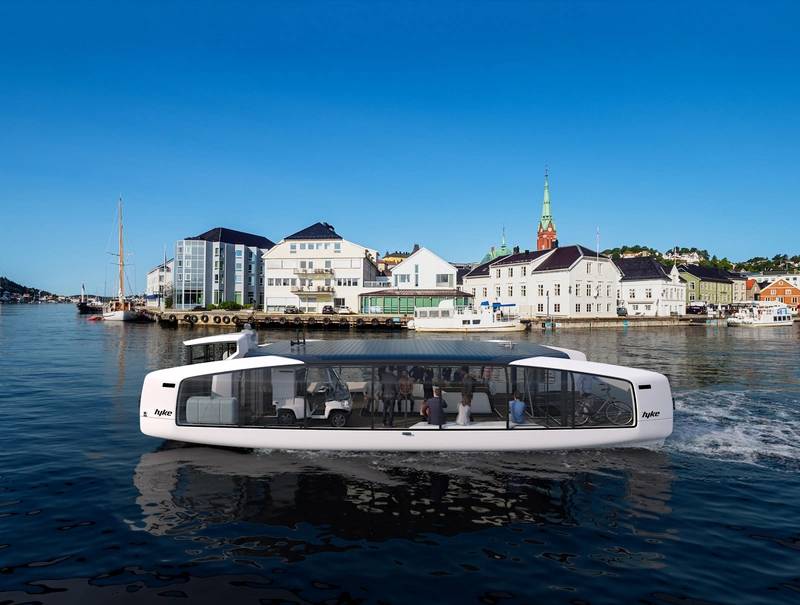 A rendering of the Hyke ferry, Arendal, Norway. Courtesy Hyke Ferry