CMA CGM Starts Weekly Service from Port Pipavav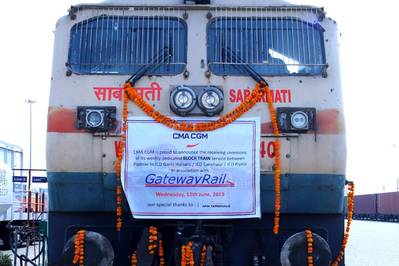 The dedicated scheduled import train from Port Pipavav to Garhi Harsaru [NCR region] is operated by Gateway Rail Freight Ltd. (GRFL) for CMA CGM.
The import train arrived at Garhi Harsaru on June 12th, 2019 and was received by Mr. Ugo Vincent, Managing Director CMA CGM India, and senior management from CMA CGM, Gateway Rail Freight Ltd. (GRFL) and APM Terminals Pipavav. The Import train which connects Pipavav to Garhi, Ludhiana & Piyala has a capacity of 180TEUs in a single run.
The scheduled train service will provide reliable, safe and quick transport of commodities to the NCR region. The seamless transport and scheduled deliveries will help the trade to optimize their supply chain.