Shipwrecked Seafarers' Plight Ends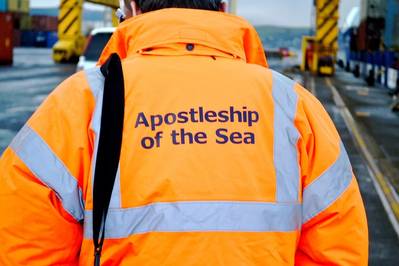 Seafarers' charity Apostleship of the Sea (AoS) provided a safe haven for a group of seafarers who were left stranded when their ship ran aground in Qawra Point, Malta.
The seven crew members from the bunkering tanker Hephaestus, were left with nothing but the clothes on their backs after their ship ran aground on February 10.
AoS Malta port chaplain Fr Joe Borg provided the seafarers accommodation at the Seafarers' Center, run by him, and looked after them while arrangements were made for their return home.
The men had access to the Internet, WiFi, television and a fully-equipped kitchen in the Center, named Dar MV Moor, after the ship which sank in World War II resulting in the loss of 28 Maltese seafarers.
Fr Joe also received donations of clothes, food and toiletries from friends and the local community after making an appeal. These provisions ensured that the crew's 18-day stay at the Center was made as comfortable as possible and their basic needs were looked after.
The Togo-registered ship ran into trouble when it was hit by strong winds and rough seas. To add to their woes, the crew, comprising four Bangladeshi, two Russians and an Egyptian had also not been paid their wages for several months.
Fr Joe said, "Their plight has ended on a positive note. They were paid the wages owed and have returned home to their families. Before leaving, the captain, on behalf of the crew, thanked me and the Maltese people for our generosity."
He added, "I never expected that the Seafarers' Center would have to accommodate shipwrecked seafarers. Although they had been through a terrible ordeal, the men were grateful to find safe shelter, food and friendship provided by AoS and the local community."