Sennebogen Quickens Turnarounds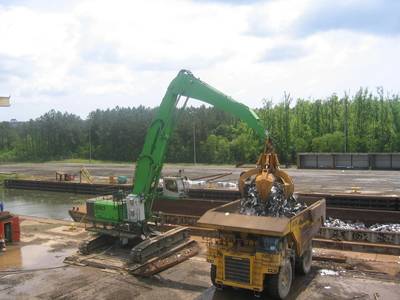 Sennebogen accelerates turnaround, reduces costs in Charleston port with supersized electric drive scrap handler.
The port facility receiving scrap metals for the nearby steel mill is now unloading barges and filling haul trucks 25% faster with its SENNEBOGEN 880 R-HD material handler. After commissioning a new 370,000 lb. SENNEBOGEN scrap handler at the Kinder Morgan Energy Partners barge facility in the Port of Charleston; the truck fleet use was reduced by 25% while still keeping pace with customers' demand for material.
Faster turnaround for Kinder Morgan's fleet of 100 ton haulers and reducing the impact of rising fuel costs were the main points when SENNEBOGEN approached Kinder Morgan with the concept of the 880 R-HD material handler three years ago. "We move between 1.5 and 3.5 million tons of material out of port here every year," says Terminal Manager Daryle Wall. "The volumes of our facilities in this area have provided us with experience using every kind of material handler, crane or excavator you can name. We were already looking for an alternative in 2007, when SENNEBOGEN came to us with their idea for the largest electric drive scrap handler in the country. We saw that we had as good a location as you'd want for this type of machine, so we decided to work with SENNEBOGEN on the project."
Constantino Lannes, President of SENNEBOGEN LLC, welcomed Wall's interest in the project. "It took a leap of faith for Kinder Morgan to step up to the 880 R-HD," he says, "but their application here and their experience with our equipment made them the ideal partner. SENNEBOGEN led the adoption of electric drive material handlers in America. No one had produced an electrically powered unit as large as this, so we needed a test bed to prove the engineering.
The 880 R-HD would be a prototype, and it would take time to build and refine the new machine. "We knew we were the guinea pigs. We didn't know if it would work, but we wanted to try because of the future savings which, with the way fuel costs have gone up, turned out to be a pretty good decision," said Wall. Since the new machine went into operation, diesel deliveries are down more that 20%, saving the facility significant costs on a monthly basis.
More throughput with a smaller bite

At Kinder Morgan's Berkeley Operations, a fleet of haul trucks carry up to 140 cu. yd. per load from the dock to nearby stockpiles. At dockside, the unloading facility had been using rope cranes fitted with 22 yard grapples. The grapple on the 880 R-HD machine is half the size, with just a 10 yard capacity, but it keeps the trucks cycling faster, with larger loads. "Our other cranes are big and run much slower for the job," says Wall. "They couldn't accurately fill up the corners of the truck like you can with the smaller grapple. The trucks are moving more towards their capacity at 140 cu. yd. than the 110 to 120 cu. yd. we were getting. The 880 R-HD can also run two complete loading cycles per minute into the trucks, against just one cycle with the old machine. The turnaround for our trucks is faster, so we're unloading the barges faster and doing a better job for our customer."

The crawler-mounted material handler simplifies the unloading operation further by being able to traverse the length of the dock under its own power. A powered tether line allows the machine a 400 ft. range of movement to position itself for unloading either of two barges at the dock. With this mobility, there's no need to winch the barges into place under the crane.


Along with the fuel savings, Wall says that switching to electric drive saves other operating costs as well. "We don't have to worry about oils, lubricants or engine rebuild costs," Wall continues. "With a diesel engine, you have the possibility of overheating, which is completely eliminated with the electric motor. The electric motor is a much better solution, causing less downtime. Electric is simpler, much more reliable, much more "accurate" so it eliminates overheating. And it's quieter, so it's even better for the operators."

Wall notes that the SENNEBOGEN cab was also welcomed by his operators. "With the cab extended up and out, the operators are able to view the entire barge at once. We have operators asking to transfer down here for that job!"

Having taken a risk to collaborate with SENNEBOGEN on commissioning America's first 880 R-HD, Wall says the new machine has more than met expectations. "I can't give enough credit to the SENNEBOGEN service team, Jim Westlake and Bob Marean. They worked through all the 'interesting' challenges that came up along the way – there're no better guys out there. Being so new, there weren't a lot of mechanics anywhere trained on this, but they and our dealer's mechanics have been great about coming out and working alongside our mechanics. And, they're continuing to stay in touch, monitor the machine's use and servicing, along with talking to our operators."


• Kinder Morgan • SENNEBOGEN LLC • America