Rotterdam Port Intros Rotterdam Food Hub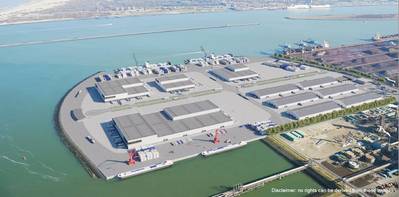 The Port of Rotterdam has announced the establishment of the Rotterdam Food Hub, strengthening its position as Western Europe's biggest transit port for agricultural, horticultural and fishery products.

Part of this strategy is the establishment of the Rotterdam Food Hub at Calandkanaal, at the entrance to Maasvlakte. The 60-hectare industrial site is being prepared to offer optimal facilities for 'agrofood' sector companies.

Land allocation discussions taking place with interested parties for over half of the 60-hectare industrial site near Maasvlakte.

Population growth and increasing prosperity, particularly in emerging economies, have resulted in 'agrofood' becoming a growth market. After the United States, the Netherlands is the world's largest agriculture exporter.

Almost €92 billion was traded in 2017, which is one of the reasons why the Port of Rotterdam, with its 16 million tonnes of throughput per year, is market leader in Western Europe.

"We aim to further accommodate our client's growth in agrofood," explained Emile Hoogsteden, Director of Containers, Breakbulk & Logistics at the Port of Rotterdam Authority. "The Rotterdam Food Hub offers excellent opportunities for this: not only are Maasvlakte's large deep-sea container terminals just a stone's throw away, but the Rotterdam Food hub will also have access to multiple berths for sea-going vessels especially equipped for refrigerated cargo."

Another advantage of the Rotterdam Food Hub is that various shared facilities can be used on the site. For instance, quays and services for transport, storage, access control and customs can be shared efficiently.

Of the 60 hectares, approximately 45 hectares are available for issue to companies, and land allocation discussions are already ongoing with candidates for some 35 hectares.