Rolls-Royce Wins Order for "Enviroship"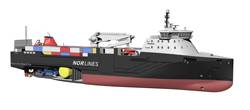 Rolls-Royce received its first order for vessels based on the Group's award-winning Environship concept. Rolls Royce will design and provide integrated power and propulsion systems for two technologically advanced cargo vessels, which have been purchased by Norwegian transportation company, Nor Lines AS.
These highly efficient ships incorporate a striking wave piercing bow, gas powered engines and an innovative Promas propulsion system, which combined, significantly improves the overall performance of the vessel, increasing fuel efficiency by up to 18 per cent. It also provides numerous environmental benefits, including the virtual elimination of SOx and a reduction of CO2 emissions of more than 40 per cent compared to similar conventional vessels.
The two Rolls-Royce NVC 405 cargo vessels will be built at the Tsuji Heavy Industries ship yard in Jiangsu, China. The vessels will enter service from October 2013, operating along the West Coast of Norway.
Toralf Ekrheim, Nor Lines, CEO said: "We have had a fruitful cooperation with Rolls-Royce for more than two years developing vessels that are tailor made for our trade and incorporate the latest award-winning energy saving and emission reducing features."
Oddbjørn Eliassen, Rolls-Royce, President – Merchant said: "The Environship concept is a transformational development for the merchant shipping market, offering significant reductions in fuel burn and emissions as well as enhanced performance at sea.
"This order demonstrates that customers are embracing more environmentally friendly ship designs and technology. Rolls-Royce is best placed to provide ship designs and integrated power and propulsion systems that deliver tangible improvements in operational efficiency and ship performance with a significant reduction in environmental impact."
The contract is for two ships, and includes options to build an additional two vessels of the same design. Rolls-Royce is already using the Environship concept to develop a wide range of efficient ship designs, including passenger ferries, chemical tankers, gas tankers, bulk carriers, and superyachts.
Key facts about the Environship:
• The Rolls-Royce Environship concept, received the prestigious Next Generation Ship Award at this year's NorShipping event in Oslo, Norway.
• The Rolls-Royce Bergen B-Series lean burn gas engines, as used in the Environship, emit around 17 per cent less green house gases (CO2 minus methane slip) per unit of power than a diesel engine.
• The use of gas fuelled engines means that Nitrogen Oxide (NOx) emissions are reduced by about 90 per cent while Sulphur Oxide (SOx) emissions are negligible.
• These emissions are already within the limits of IMO (International Maritime Organisation) Tier III environmental legislation, due to come into force in 2016.
• The Rolls-Royce Promas propulsion system is an integrated rudder and propeller, which alone improves efficiency of the vessel by 5 to 8 per cent.
• The new innovative bow shape and hull form, designed by Rolls-Royce, also reduce resistance by up to 8 per cent, therefore reducing fuel burn and emissions further.
• The vertical bow shape enables the vessel to maintain speed even in rough seas enabling operators to achieve demanding shipping schedules without the need to burn additional fuel to make up lost time.