Port of Oakland Imports Up as Tariffs Loom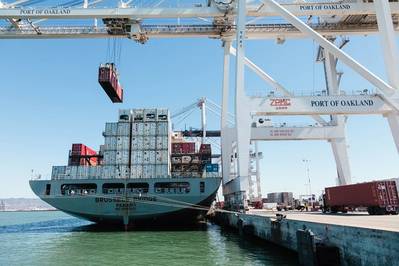 On the eve of threatened tariff increases, the Port of Oakland says its import business is still growing. The Port has reported that its containerized import volume jumped 7 percent last month compared to April 2018. It was the busiest April in the Port's 92-year history.
The Port said import totals have increased in three of the first four months of 2019. It added that export volume edged up 1.7 percent last month.
Oakland's trade numbers predated U.S. warnings of increased tariffs on Chinese goods that could take effect tomorrow. The Trump Administration has threatened to boost tariffs on $200 billion of Chinese imports from 10 percent to 25 percent. China is Oakland's largest trading partner. A tariff hike could dampen import demand while also prompting retaliatory levies on U.S. exports.
The Port said that Oakland import volume has increased 5.8 percent through the first four months of 2019. It attributed the gains primarily to continued strong U.S. consumer demand. Oakland's total cargo volume – imports, exports and empty containers – is up 4.6 percent, so far this year.
The number of ships calling at Oakland in 2019 has declined 8.1 percent, the Port said. Shipping lines are consolidating more cargo on fewer but larger ships to cut costs, the Port explained.