Port Manatee Reports Record First Half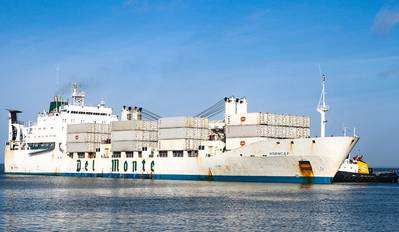 Port Manatee reports it has achieved numerous cargo records in the first half of its current fiscal year and is on pace to shatter several full-year marks.

The Central Florida Gulf port has established new first-half highs for total tonnage throughput and a host of cargo sectors, according to figures released April 17.

"Port Manatee's continuing dynamic growth is a testament to the enduring success of our port, in collaboration with our tenants and users, as a critical link in multiple supply chains and as a vibrant producer of well-paying jobs and other significant positive impacts upon our region," according to Vanessa Baugh, chairwoman of the Manatee County Port Authority.

Achievements of Port Manatee in its first fiscal half, ended March 31, compared with the first six months of fiscal 2017, include:
Total short tons up 18.2 percent, to 4,495,733;
Containerized cargo as measured by 20-foot-equivalents units, or TEUs, up 12.6 percent, to 18,894;
Containerized cargo tons, up 12.2 percent, to 192,679;
Dry bulk cargo tons, up 54.6 percent, to 924,675;
Breakbulk cargo tons, up 24.2 percent, to 311,940; and
Liquid bulk cargo tons, up 10.2 percent, to 3,066,462.
Port Manatee's executive director, Carlos Buqueras, attributed containerized cargo growth to expansion of World Direct Shipping's Mexico services and Del Monte Fresh Produce N.A. Inc.'s ongoing transition to containers from breakbulk shipping, while the dry bulk surge was due to strong volumes of such commodities as phosphate rock, granite and sulfur. Rises in forest product volumes helped propel breakbulk gains, and increases in handling of gasoline, bunker fuels and citrus concentrates were key factors in the liquid bulk escalation.


"The diverse growth strategy we are advancing at Port Manatee is facilitating burgeoning commerce on all fronts," Buqueras said. "All signs point to Port Manatee's achievement of a number of full-year records for fiscal 2018, which ends Sept. 30."


Located "Where Tampa Bay Meets the Gulf of Mexico," Port Manatee is the closest U.S. deepwater seaport to the expanded Panama Canal, with 10 40-foot-draft berths serving container, bulk, breakbulk, heavy lift, project and general cargo customers. The port generates more than $2.3 billion in annual economic impact for the local community, while supporting more than 24,000 jobs, without levying ad-valorem taxes.

• Carlos Buqueras • Central Florida • Gulf of Mexico