Port of Hamburg Sends Delegation to China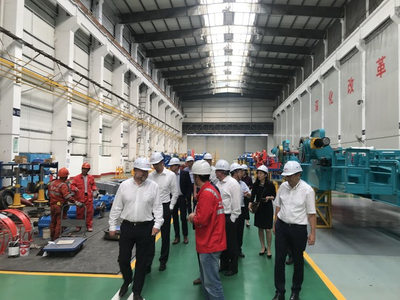 A delegation from Hamburg was in China from May 14-18, visiting companies in Zhengzhou, Shanghai and Hangzhou. Organized by Port of Hamburg Marketing (HHM) in cooperation with the Hamburg Representative Office in Shanghai, the delegation's tour was led by Axel Mattern, HHM's Joint CEO, and Mathias Schulz, its Head of Market Development Asia.
The delegation included representatives of TCO Transcargo, Rostock Port, Trelleborgs Hamn, Hamburg Port Authority (HPA) and Hamburg Invest.
The focus was on discussions with leading import and export companies, along with Chinese logistics providers for sea and rail services. In addition, the delegation was extremely impressed by developments on the expansion of Chinese infrastructure. During the first days of the program, for example, visits were made to Zhengzhou International Hub Development and Construction Co. Ltd. (ZIH), one of the major route operators on Sino-European rail links with Hamburg under the 'One Belt – One Road' initiative, Changjiu Logistics and Schuler Pressen. The visit to Changjiu Logistics Co. Ltd, a logistics company offering supply-chain solutions for the Chinese automotive industry, produced very positive feedback on the Port of Hamburg, which the company would be glad to use as its European hub, as it much appreciates the Elbe port's infrastructure.
Rail freight traffic has always been one of the Port of Hamburg's strengths. In 2017, over 2.33 million TEU were transported on seaport-hinterland rail services via Hamburg, a total unmatched by any other European port. That makes Hamburg Europe's No. 1 rail hub. The port's key role on trains to/from China is no accident, as Axel Mattern, HHM's Joint CEO, explained: "The Port of Hamburg is Europe's largest logistics hub and China is its top trading partner. With incoming and outgoing services, rail traffic makes a decisive contribution to the port's logistics. Offering 2,000 container block train links per week, Hamburg is the top player on the market by a wide margin. The proportion of trains serving China is also growing constantly. In 2017 around 177 weekly container train services were offered, this year there are already 235, representing an advance of almost 25 percent. Currently, container block trains link 27 different cities in China with Hamburg."
As part of the delegation's tour, it also visited the trade fair 'transport logistic China' being held in Shanghai. This year's program of activities at the fair was inaugurated with a Port of Hamburg Marketing VIP Dinner on the premises of the former British Consulate-General. Dr. Christine Althauser, German Consul-General, was among those present. This offered members of the delegation opportunities for communicating directly with high-ranking representatives of ZPMC, Otto Group, COSCO, SIPG, China Railcargo and others from commerce, the port, and trade associations.
During the second stage of the trip, a visit was made to Cainiao Logistics, Alibaba Group's logistics subsidiary. The same day also featured a meeting with representatives of Dahua Technology, a world market leader in security technology, among its products being drones and cameras for monitoring road traffic. Dahua Technology has a branch in Düsseldorf, but is also interested in intensifying contacts with Hamburg Metropolitan Region.
Included on the program for the last day of the delegation's trip was an inspection tour of Yangshan Container Terminal Phase 4 in Shanghai. This container terminal is fully automated and is currently undergoing a test phase. The finale for the delegation was a tour of ZPMC's production facilities on Changxing Island. ZPMC is the world market leader for container gantry cranes. Huang Qing-Feng, ZPMC President received the delegation and discussed a deepening of cooperation with the Port of Hamburg.
Participants saw this trip for the delegation, lasting several days and with an interestingly compiled program of visits and events, as offering excellent opportunities for cultivating existing contacts and making new ones. For the companies represented, HHM as tour organizer contributed not just its own expertise, but its Representative Office in Shanghai to open doors. Similar delegation trips are to be organized in future to Asian markets that are of interest to HHM members.