NOAA Inshore Navigation Chart Surveys Update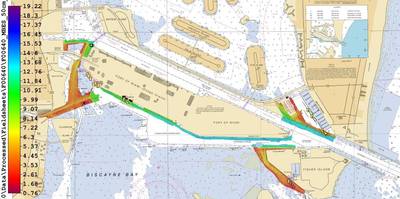 Coast Survey's navigation response teams (3-person hydrographic survey teams in small boats) have made a fast start on this year's survey season, reports the NOAA, with improvements in hand on charts for ships transiting Miami and San Francisco inshore waters.

In Florida, where Coast Survey is preparing to issue a "new and improved" Miami Harbor Chart 11468 to alleviate vessel congestion at the Port of Miami, a navigation response team finished final hydrographic surveys to ensure the new chart has the latest and most accurate depth measurements around several areas identified as critical within the port. In just ten days, team members Erik Anderson, James Kirkpatrick, and Kurt Brown acquired, processed, and submitted the multibeam survey data covering 64 nautical miles.

The Biscayne Bay Pilots and others requested the new chart, which is reconstructing old charts in order to provide large-scale coverage of the entire precautionary area where vessels congregate to await pilotage and commit to an approach course to the channel. Updating the chart information and expanding chart coverage will alleviate a navigation safety risk for the world's busiest cruise port, and will protect endangered coral reefs from inadvertent anchorages.

One interesting side note on the Miami survey… The team found a sunken car, which a Miami Police Department Marine Patrol/Underwater Recovery Detail dive team subsequently investigated, and considered it had been down there for approximately 20 years.


Image of the sunken automobile

San Francisco Bay Survey
Meanwhile NOAA inform that in San Francisco Bay, another navigation response team is planning a special hydrographic survey to update NOAA charts 18656 and 18657. The action comes as a follow up to a July 2013 grounding by a tug and a barge carrying 80k barrels of crude oil in Benicia Anchorage 22, near Carquinez Strait, San Francisco.

The survey determined that shoaling was the culprit and the evidence indicated that a charted shoal has been creeping through the Benicia Anchorages towards the federal shipping channel at Carquinez Strait. Last month, the U.S. Coast Guard requested an extensive survey to determine the extent and significance of shoaling in the Benicia Anchorages, and the team is planning to conduct the survey shortly.



• National Oceanic and Atmospheric Administration • Port of Miami • Florida