Most Bunker Sales in Singapore are Low-sulphur Fuels -BIMCO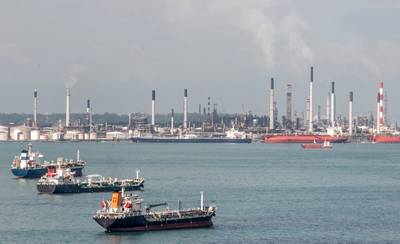 Low-sulphur fuels accounted for 84% of total February sales in Singapore, slightly up from 83% in January. The sale of low-sulphur fuel oil (LSFO) made up the largest component at 71.5%, with marine gas oil (MGO) accounting for 12.5%, BIMCO reports.
Total bunker sales in February fell 16% to 3.9 million metric tons compared with January, reflecting lower demand for shipping as the coronavirus paralyzed intra-Asian supply chains.
Now that both the sulphur cap and the non-compliant fuel oil carriage ban have come into force, the only ships still bunkering high-sulphur fuels are those with scrubbers installed. Just under 30% of the very large crude carrier (VLCC) fleet currently has a scrubber fitted, compared to around 14% of the Aframax fleet, as the larger ship sizes have seen the greatest number of scrubber installations. Overall, 14.2% of the fleet, when measured in deadweight tons (DWT), has a scrubber installed (source: Clarksons).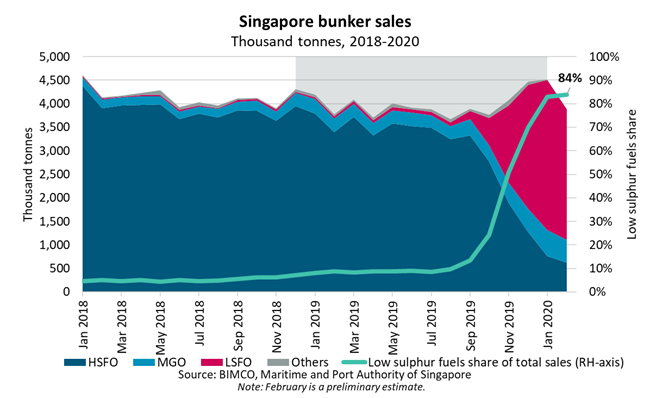 Advantage for scrubber fitted ships narrows
The collapse of the OPEC+ alliance means Saudi Arabia is preparing to flood the market with cheap crude oil. This has resulted in tumbling oil prices and consequently, lower bunker fuel costs.

On March 17, 2020, a metric ton of VLSFO cost $293, a 59% drop from $710 per metric ton on January 1, 2020, causing the VLSFO- HSFO spread to fall to $93 per metric ton. That represents the first time that the spread has fallen below $100, lowering the advantage that scrubber fitted ships have previously enjoyed. Similarly, the MGO-HFSO spread has fallen to its lowest level this year at just $112 per metric ton.

• Crude oil • large crude carrier • low-sulphur fuel oil