Market in Focus: Containerships
Newbuilding Update
The highlight for newbuild orders in the last 12 months must certainly be HMM's mammoth order back in September 2018. The South Korean company placed en bloc orders at three top South Korean yards for almost $3 billion in total.
• eight 15,300 TEU ULCVs from Hyundai
• seven 23,000 TEU ULCVs from Daewoo
• five 23,000 TEU ULCVs from Samsung
These huge orders equate to 20 new ULCVs at nearly 400,000 TEU total. Once live, the 23,000 TEU vessels will take the crown for the largest container ships on the water.
Source: Vessels ValueSecond-hand Market
The last 12 months of the second hand container market have been significantly less active, with only 162 transactions compared to 334 in the previous year for the same period. This is a 50% drop in activity.
Sales started off strong, but the drop in charter rates which began around July 2018 quickly applied the brakes to the S&P market. The uncertainty that continues to loom over 1,700 TEU and 3,500 TEU vessels only lasted a couple of months for the larger tonnage of 8,500 TEU. Rates bounced back and shot up for this larger tonnage, peaking in April 2019 at USD 25,000 per day, the highest it has been for nearly four years.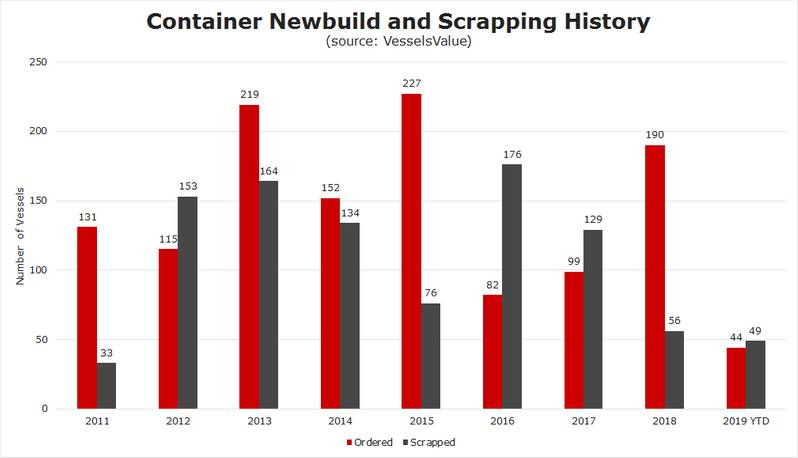 Source: Vessels ValueDemolition
The demolition market has looked rather promising in the container sector. In the last 12 months, almost a third of containers scrapped were owned by Germans or Greeks. This comes as no surprise as Germany continues its scrapping crusade.

This week, we saw the youngest container scrapped in over a year, which is the third youngest container vessel ever scrapped at only nine years old. Aeneas (5,100 TEU, Mar 2010, Jiangnan Shanghai Changxing Heavy Ind) was sold for scrap for $450 per LDT in Hong Kong. The early retirement was encouraged due to the vessel suffering from main engine problems.



• Germany • Hyundai