Mammoet USA Partners with Alabama Port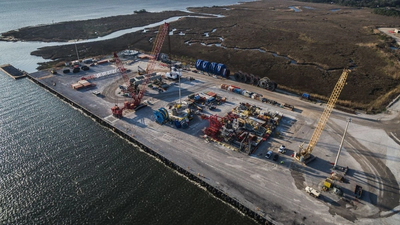 Mammoet has announced its partnership with Core Industries, the owner and operator of Theodore Industrial Port near Mobile, Alabama.
Under the agreement, Mammoet will have the opportunity to work with Core and utilize the 400 acres of land at the port, positioning the company closer to Mobile's well-established chemical industry. Over the years, the Mobile area's chemical industry has expanded along a 60-mile corridor, with new and existing companies continuously taking advantage of the infrastructure and existing synergies in the area. This has led to a strong rise in demand for heavy lift and transport services. Now, Mammoet is well positioned to provide more localized support to its customers with timely and cost-effective mobilization.
Core's Port facilities will act as a hub for Mammoet's specialized equipment, while also serving as a secure storage or staging area for freight moving through the port. Several all-terrain cranes and transporters will be stationed at the site to improve flexibility and response times to local projects. Furthermore, the port has 3,000 feet of bulkhead and docking facility, and a federally maintained 40 foot deep water channel with no air draft restrictions, ensuring a fast and safe turnaround. Mammoet will also work closely with Core to use their heavy lift dock at the port, which will allow for the roll-on and off of freight moving through the port.
The partnership with Core Industries is an addition to Mammoet's existing partnership with the Port of Freeport in Texas. With port locations well placed along the Gulf Coast, Mammoet has increased its coverage of the area to better serve the needs of customers across all industries.