Kooiman to Build Patrol Vessels for Antwerp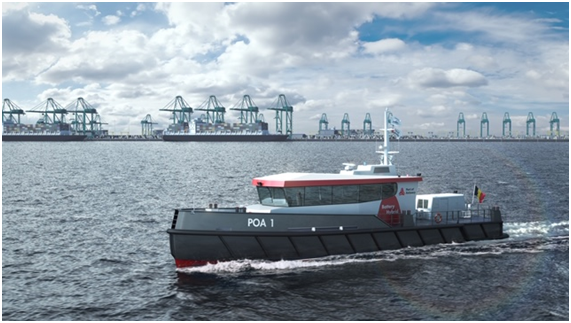 Kooiman Marine Group has obtained a contract from the Port of Antwerp to design and build 2 aluminium patrol vessels.
In ordering the hybrid enforcement vessels, the Port of Antwerp is emphasizing the port's sustainability and safety ambitions. The innovative hybrid vessels were developed by Kooiman Engineering and will be built by Scheepswerf Gebr. Kooiman, both from Zwijndrecht.
The vessel dimensions are LOA 25.0 m, beam 5.4 m, moulded depth 3.1 m and draught 1.36 m. The vessel can achieve maximum speeds of 35 km/h using diesel propulsion and 22 km/h using the hybrid propulsion system.
The vessels will be equipped with a battery package enabling them to sail for 2.5 hours at 9 km/h exclusively on electric power. The vessels also have two other power modes; full diesel propulsion or hybrid propulsion. A unique system that results in lower fuel consumption and minimal CO2 emissions. The diesel particulate filter and integrated exhaust gas treatment system also ensure that fewer harmful substances (SOx/NOx) are released. Delivery is planned for autumn 2020.
The vessels are an ongoing development of an earlier patrol vessel that Kooiman Marine Group designed, built and delivered. The successful delivery of this first vessel is now being continued.