New App Helps Track Shipping Container Damaegs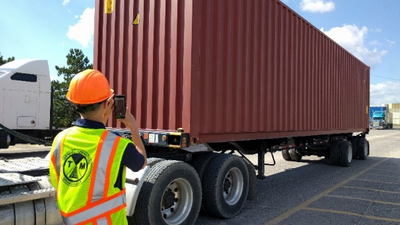 PEIR (Photographic Equipment Interchange Receipt) has launched a new app that helps the transportation, logistics and shipping industries better assign costs based on responsibility for damaged shipping containers and trailers.
"After a year of development and another year of beta testing with trucking companies, depot operations, repair facilities, transfer yards and terminals, we are happy to launch PEIR today," said Tom Burke, CEO of PEIR parent company TCompanies. "The idea for PEIR came to me shortly after selling our intermodal trucking company that we owned for 10 years. For all 10 years, I felt the monetary pain associated with not having evidence that we did not damage a piece of equipment that we received in interchange and were forced to pay for repair. At one point, it took 2.5 full time employees to research and handle all these damage claims, which was another cost that ate away at our bottom line."
With PEIR, priced at $39.99 per month, there are no questions about the condition of the equipment at your point of interchange as PEIR streamlines the inspection and documentation into a quick, reliable and intuitive mobile app process. PEIR's patent pending process establishes an irrefutable photographic record for the equipment being interchanged between parties and the record is provable with the Blockchain. It's a simple five step process using a smart phone:
To start, users type in a brief description of the Event and enter as many tags as needed to easily identify the Event ("Chassis", "Damaged", "Rear Corner", "BN").
Photos are taken with the user device—up to 20 photos may be taken to record the interchange.
User taps "Finished" when done and PEIR obtains & confirms a Blockchain certification and stores the information in PEIR's platform for easy access and retrieval.
A link to the Event can then be shared by tapping "Share."
Users may review any stored Event through the PEIR mobile app or PEIR's website to verify the Blockchain Proof of Authenticity, Event Summary, Tags, Details, Geo Locations & unique Blockchain Hashes.
PEIR acquired TamperSecure, an API using patent pending technology to leverage the Blockchain to verify the creation time and date of a digital document, verify the location at which a photo was captured, and ensure the authenticity of any digital document.

"Each year within the U.S.A., there are 37.5 million containers/trailers transporting goods through numerous interchange points each trip," said Burke. "We estimate that 25 percent of those containers/trailers—9.4 million—are damaged. And if you conservatively estimate a damage fee as little as $200 per incident, you exceed $1.8 billion in annual costs."

TCompanies surveyed logistics and transportation executives in July 2018 and found that 35 percent of respondents said that in the past year, they have been asked to pay for container/trailer damage that they were not responsible for. 60 percent said that the reason that they paid was that they didn't have any documentation to prove they didn't create the damage.

Before PEIR, if you hadn't damaged the container/trailer, you had little way to prove your innocence among the other five to seven parties involved in the shipment. PEIR solves this problem with visible, irrefutable recordable evidence utilizing Blockchain.

• smart phone • Tom Burke • transportation