​Great Lakes-St. Lawrence Seaway Shipping Rebounds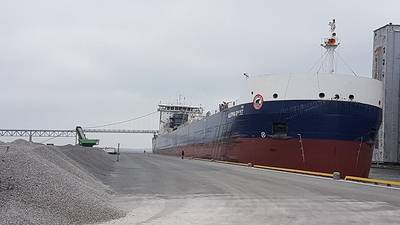 After a slow start due to ice conditions, St. Lawrence Seaway cargo surged in May fueled by grain and iron ore exports and shipments of road salt.
According to the latest numbers, cargo shipments from March 22 through the end of May totaled 8.3 million metric tons, bringing it in line with last year's strong performance.
Iron ore shipments via the St. Lawrence Seaway (from March 22 to May 31) totaled 1.5 million metric tons, up 8 percent compared to the same period last year. Dry bulk cargoes via the Seaway (2.2 million metric tons) are up 11 percent, buoyed by road salt shipments as cities across the Great Lakes-St. Lawrence region replenished their supplies after the long, difficult winter.
At the Port of Toledo, tonnage through May is 8 percent ahead of 2018. Iron ore, petroleum products and dry bulk led the way, while grain shipments remained on par with last year. A combination of grain, salt, pig iron and other bulk products along with project cargo for the Cleveland Cliffs HBI Facility have accounted for 14 ocean vessel calls in Toledo this year.
The Duluth Seaway Port Authority also reports a similar start to the season.
Port Milwaukee has maintained its momentum through the early part of the international shipping season with the Port's commercial tenants up 10 percent compared to the start of the season in 2018.
The Port of Green Bay moved 265,600 tons in and out of the Port in May, making overall tonnage up 21 percent from the same time last year. The top contributors to this were coal, salt and petroleum products, which alone are up 190 percent from this time in 2018.