Furetank Transforms Former Office into Ship Sim Center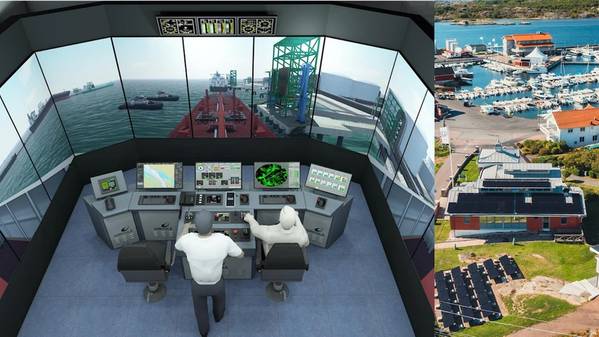 Furetank turned a former office building into a maritime educational center on Donsö outside Gothenburg: a state-of-the-art ship simulator complex for training, assessment and certification. Starting in the summer of 2023 it will be available for the shipping cluster on Donsö as well as external organizations.
Furetank has ordered a large range of new-built vessels to be delivered in the coming years, and crewing these ships is a challenge. The new simulator center is seen as helping to alleviate some training bottlenecks, said Jonas Gunnarsson, personnel manager at Furetank.
The simulator complex has been designed by Wärtsilä, designed to accomodate 14 students at a time. Physical simulation bridges are combined with virtual, augmented and mixed reality applications. Together they create realistic learning environments for navigation, maneuvering, eco driving, docking, cargo handling, safety procedures as well as proper use of new ship technology like shore-power connection or LNG/PBG bunkering.
The equipment includes a full size class A navigational bridge simulator using 11 portrait-mounted 75-in displays, giving a 240-degrees horizontal field of view and good vertical height. In addition, there will be a virtual reality bridge/bridge wing and TUG simulator as well as an engine room simulator including a virtual machinery space.
A multi-player feature allows interaction between captain/pilot, bridge/engine room etc, for training in communications skills required in real-life scenarios. "We can simulate 50 ship models ranging from pilot boats and cruise ships to tankers and towboats," said Gunnarsson. "You can navigate several fairways, going into the ports of Gothenburg, Rotterdam, the Oslo Fjord etc. We can also simulate moving through ice or rough sea. Only our imagination sets the limits for what shipping companies can do in this simulator."