'Floating Iron-ore Mine' Arrives Oman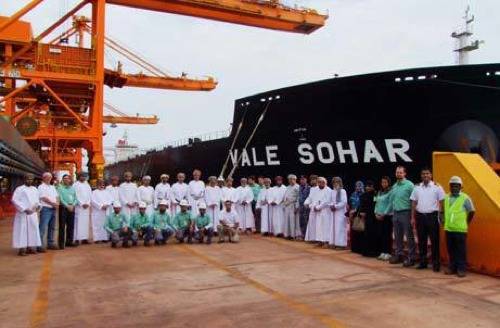 'Vale Sohar' docked at Vale's deep-water jetty in the Port of Sohar to unload iron ore on its first voyage from Brazil.

The ship, one of the largest bulk carriers in the world with the capacity to transport 400,000 tons of minerals and the length of four football fields, was welcomed to Oman by members of the North Al Batinah community headed by H.E. Sheikh Hilal bin Ali Al Habsi, Wali of Sohar.

The two remaining vessels, 'Vale Shinas' and 'Vale Saham' are currently in the final stages of construction and are scheduled to be handed over during the first quarter of 2013. The first vessel to arrive to Oman was 'Vale Liwa' which unloaded its shipment of iron ore last month and is currently en route to Brazil for reloading.

Due to the very large capacity of these carriers, the shipments create a 'virtual iron ore mine' in Oman which ultimately allows Vale to serve its growing network of clients in the Middle East, North Africa and Indian Sub-Continent faster and more efficiently.

To commemorate the vessel's arrival, Vale organized a special event for members of the community to visit the Industrial Complex in Liwa. The visitors were met by Rodrigo Elisei, Pelletizing Plant Operation Manager, as well as senior members of Vale's team.