Surgical masks and other items have been found washing up onto Australian beaches Tuesday after the Singapore-flagged APL England lost at least 40 containers overboard in heavy seas off the coast of Sydney.
The medical supplies have been found on shores between Magenta Beach and The Entrance, according to the Australian Maritime Safety Authority (AMSA), which said the locations and contents are consistent with its debris drift models and items listed on the ship's cargo manifest. Modeling suggests that debris could continue to wash-up over the coming days, AMSA said.
Dozens of containers toppled into the sea and many more were damaged Sunday morning when the 277-meter APL England experienced a temporary loss of propulsion and began rolling heavily about 73 kilometers southeast of Sydney. The ship's master reported that 40 containers were lost overboard and 74 containers have been damaged. A number of containers are also protruding from both the starboard and port sides of the ship, and several stacks can be seen tumbled over on deck at the stern.
AMSA said it is still working with the ship's cargo agent to confirm exactly which containers went overboard, but at this time it believes no dangerous goods appear to be in the affected cargo stacks. Initial indications are that the dropped containers held a range of goods including household appliances, building materials and medical supplies.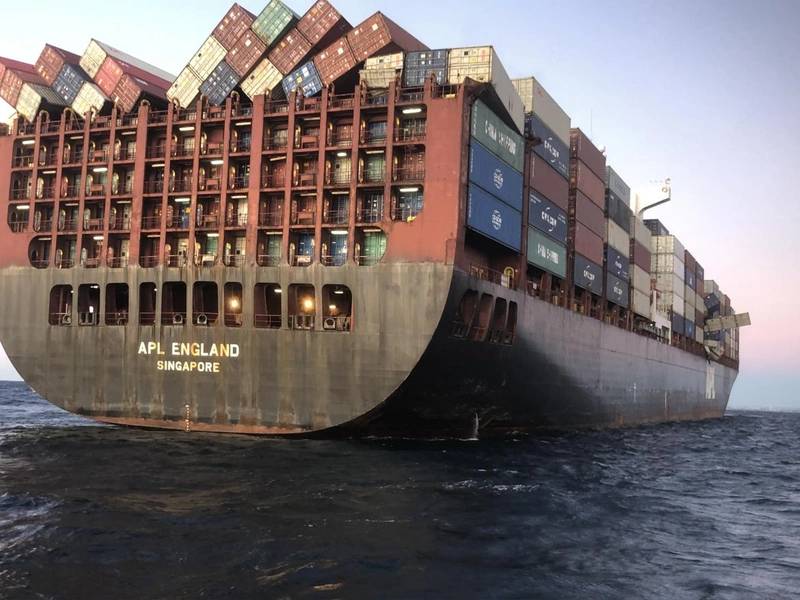 (Photo: AMSA)
Inspection and investigation
The 5,510 TEU capacity APL England had departed Ningbo, China on May 11 and was en route to Melbourne at the time of the incident, but the vessel altered course and has arrived Tuesday at the Port of Brisbane anchorage (off Port Cartwright), where AMSA surveyors boarded the vessel to conduct a seaworthiness inspection to establish the structural and operational condition of the ship. AMSA said it expects to have the outcome of the seaworthiness inspection and confirmation of the next steps by Wednesday morning. The outcome will help inform if, and how, the ship might be brought safely into the Port of Brisbane in conjunction with Maritime Safety Queensland, AMSA said.
Once the ship is in port AMSA will begin its safety probe focussing on whether cargo was appropriately stacked and secured on board the ship, and any potential breaches of environmental pollution regulations.
The incident is not the first involving container losses from the APL England, AMSA noted. The vessel previously lost 37 containers in the Great Australian Bight in August 2016 due to heavy rolling in rough seas. The ship had been under different management at the time.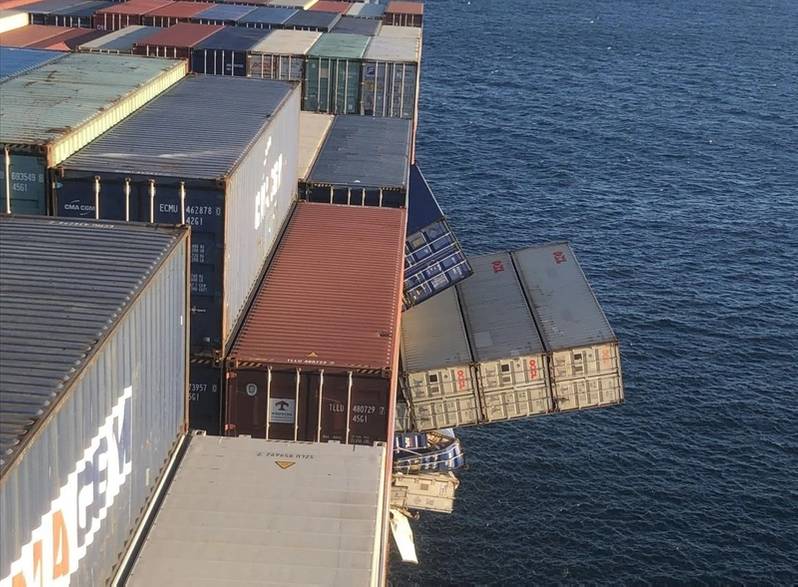 (Photo: AMSA)