Ending Inefficient Container Shipping Practices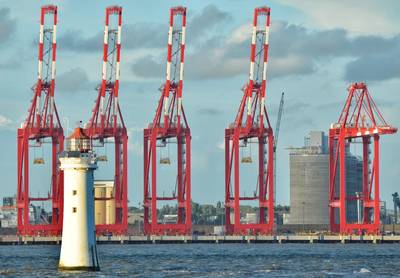 E*DRAY is a Digital Port Logistics Platform dedicated to Transforming Inefficient Container Shipping Industry Practices.
E*DRAY, the container shipping industry's first collaborative port logistics technology platform, delivers a new coordinated standard for drayage operations at terminals and container yards. E*DRAY standardizes and scales the block stow, flow stack, and export street turn processes for the import and export community nationwide. By creating this industry standard, cargo owners and drayage companies of all sizes can benefit from the process and platform.
After 12 months of planning and market testing alongside the E*DRAY Executive Board of Advisors, E*DRAY spent another 9 months of technology development. E*DRAY is currently being rolled out on a market-by-market basis in North America. Seattle/Tacoma is live and operating. With a number of customers now secured in Los Angeles/Long Beach, the local team is in place and will begin operations by the end of March.
CMA CGM Group, a leading worldwide shipping group, led a round of six industry investors. This investment further reinforces their ongoing commitment to digital transformation.
E*DRAY improves current industry practices to:
Accelerate throughput at terminals and container yards and reduce congestion to improve productivity
Accelerates movement of cargo off the terminal
Enables terminals to do more with limited space
Reduces truck emissions delivering a greener, environmentally friendly solution
Provides real-time visibility to container equipment and utilization
Lower network costs by reducing wait-times and empty miles
Match-back containers: capture import containers for exports
For example, E*DRAY drivers no longer have to wait for a specific load. They simply grab the next container in the flow stack and go. This significantly reduces wait-times on terminals and truck emissions. Once containers reach the street, E*DRAY offers real-time visibility to containers which provides the opportunity for coordination of export back-hauls or match-backs.

E*DRAY is able to realize all of these efficiencies without disintermediating the drayage company and cargo owner relationship. Drayage companies and cargo owners participating in the program reconcile their moves through E*DRAY's proprietary software solution, creating a truly collaborative ecosystem. E*DRAY's platform standardizes and enhances this solution for those already able to execute portions of the above and also creates a unique opportunity for those that can't.

"The Port of Los Angeles (POLA) is supportive of programs like E*DRAY to help cargo velocity through our gateway. With our GE Transportation initiative underway, E*DRAY stands to both strengthen and complement what we are bringing to the port community," said Gene Seroka, Executive Director, POLA.

Reade Kidd, President of E*DRAY, said, "Response to E*DRAY has been overwhelming. Container shipping participants have been weighed down by congestion, inefficiency and slow turn-times. E*DRAY is creating a new standard that solves a range of supply chain pain points, providing greater productivity as well as time and cost savings."

"HTA is always looking for opportunities to improve turn times and create consistency for its members. E*DRAY brings a unique solution to the table as they work to create a new standard for terminal velocity and efficiency. We've established a partnership with E*DRAY which you'll hear more about in the coming 60 days," said Weston LaBar, CEO of the Harbor Trucking Association.

"The Northwest Seaport Alliance was the first port to partner with E*DRAY. Their innovation, technology and team have a new approach to increasing velocity through our gateway which is needed across the country. We're excited to work with them and help this become a new standard for those that embrace their solution," said John Wolfe CEO Northwest Seaport Alliance.

• CMA CGM Group • friendly solution • GE Transportation