Maritime players plotting pathways to data collaboration with digital projects in line with new BV-backed research study.

Digital technologies are increasingly being leveraged by shipping players to facilitate data collaboration among different actors in areas like ship design, vessel performance and port calls as a new Thetius research study backed by Bureau Veritas (BV) shows this will be vital to drive decarbonization, an OrbitMI-hosted panel heard at the recent Shipping Insight event in the US.
"Data-powered, collaborative innovation is the essential ingredient that can further accelerate the transformation of the industry. We believe that digitalisation is a foundation for innovation as it allows for faster, richer and more efficient collaboration," BV Marine & Offshore's VP Digital Solutions & Transformation Laurent Hentges states in the foreword to the Thetius report, entitled Common Interest.
Several data-sharing initiatives under way across shipping were highlighted by the panel that demonstrated the traditionally conservative industry is slowly breaking down barriers to collaboration in an area that is seen as highly sensitive due to issues such as competition and data protection.
US-based RoRo operator ARC is applying digitalization across three main areas - safety, quality of life for seafarers and efficiency - in a rapid push towards vessel automation through installation of mesh wifi networks with sensors for an Internet of Things (IoT) onboard, as well as use of AI-based voyage optimization and automated reporting to ease the workload for captains, ARC's SVP head of operations Fred Finger said.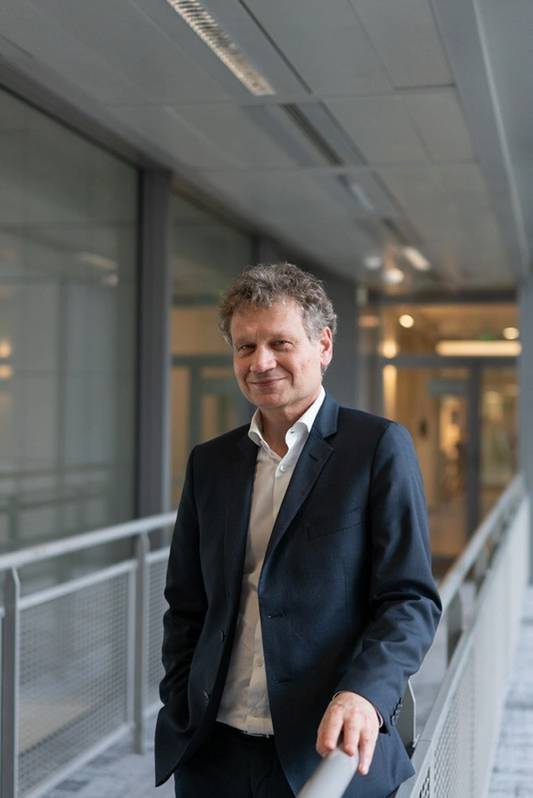 BV Marine & Offshore's VP Digital Solutions & Transformation Laurent Hentges. Photo: Bureau Veritas
'Relationships of trust'
The company is running 25 digital projects with suppliers enlisted from other industries as it prepares its fleet for a new era of data-sharing. "Having relationships of trust and being able to reach out is the only way to move forward," Finger told the panel debate on Collaborating on Digitalization at the event in Stamford, Connecticut.
Similarly, dry cargo and product tanker operator D'Amico's Dry Cargo Operations Manager Captain Joe Gross said: "There are many opportunities for emission reductions through working both internally with chartering and other teams and externally with charterers, owners and weather routing providers to deliver the data we need for better voyage decision-making."
At the regulatory level, the US Coast Guard (USCG) is working with maritime partners including shipowners, class societies and vessel designers to develop a safety regime for alternative-fuel ship designs that involves utilising their data to advance such technologies required for decarbonization, according to panellist Commander Frank Strom, head of the USCG's Systems Engineering Division.
The Thetius study highlights the Maritime and Port Authority of Singapore's digitalPORT project geared to achieving optimal JIT arrival and departure timing to enable faster ship turnarounds and reduce waiting times at port, thereby cutting emissions. Singapore and China have also piloted data exchanges on ship certification for port clearance and port state control being done via APIs.


History of Collaboration
The panel heard that collaboration is not a new concept in shipping as it is historically an interdependent industry in which stakeholders such as shipowners, charterers, cargo owners and ports have to interact with each other to make voyages work.
The study states: "Shipping has a long heritage of collaboration under contracts. P&I clubs, slot sharing agreements and tanker pools are examples of shipping defining a mutual interest and developing a contractual framework to control collaboration fairly. In fact, around 95% of global containership capacity on East-West trades is controlled by operators working together through container shipping alliances."
This was underlined by Gross who said the industry "has a muscle memory that can be applied to collaboration in all aspects of business".
"Shipping work cannot be done in isolation. Everyone relies on everyone else to gain the information they need, whether it is ETAs, weather, bunkers onboard or cargo history. There is a built-in reliance on each other that is necessary to ensure the industry can continue to move forward," he said.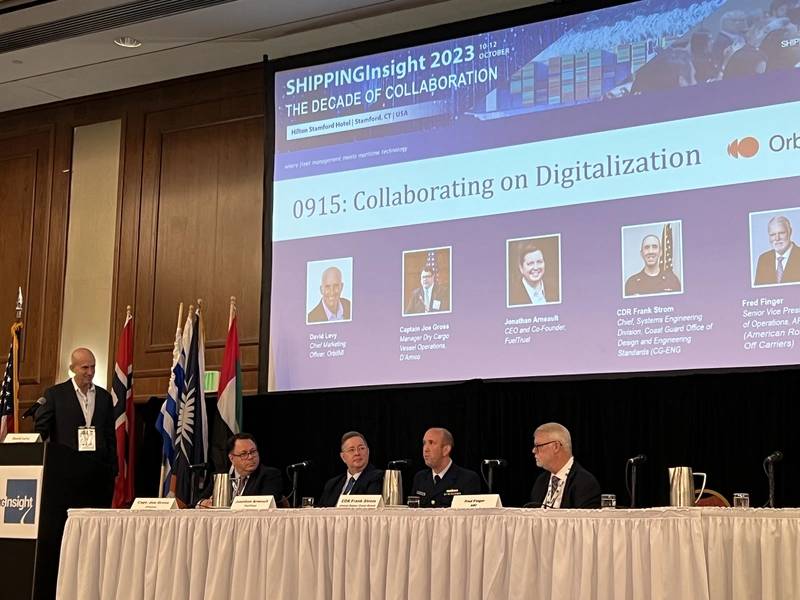 The OrbitMI-hosted panel 'Collaborating on Digitalization' at Shipping Insight 2023 in Stamford. Photo Greg Trauthwein
Technological Advantage
Panel member Jonathan Arneault, CEO of FuelTrust, said the problem of data-sharing has been solved in many other industries, putting shipping in a fortuitous position as it can leapfrog 30-40 years of innovation by applying technologies already developed elsewhere.
"There is a great opportunity for owners, operators and different suppliers to the industry to really take advantage and rapidly accelerate on the data side of collaboration to cut costs," he said.
French classification society BV has recently forged a strategic alliance with New York-based maritime software firm OrbitMI to accelerate development of data-driven solutions that can be integrated into shipping companies' existing systems, enhancing vessel performance by harnessing data from multiple APIs to create intelligent connected workflows.
The Thetius report states that such data-sharing "has the potential to yield transformative returns on the investment in time, technology, and capital resources", with an estimated $2.6 trillion market opening up for maritime decarbonization in which all stakeholders can benefit through developing collaborative digital solutions.
But it further states there remain significant barriers to overcome in terms of siloed thinking, cultural behaviour and cost to realise wider data collaboration in shipping.