Containership Loses Boxes in Heavy Seas off Australia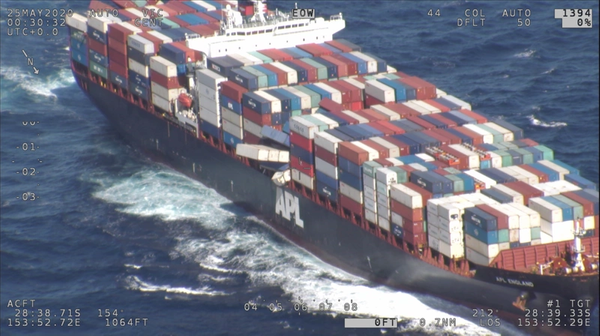 A Singapore-flagged containership lost at least 40 containers overboard in heavy seas off the coast of Sydney, the Australian Maritime Safety Authority (AMSA) said.
Just after 6:10 a.m. Sunday, the APL England experienced a temporary loss of propulsion and began rolling heavily, causing container stacks to collapse and several containers to fall overboard in about 2,000 meters water depth, about 73 kilometers southeast of Sydney.
The ship's power was restored within a few minutes, but the vessel, which had been en route from Ningbo, China to Melbourne, has altered course and is now heading to Brisbane. AMSA said it will inspect the containership upon arrival.
The APL England's master reported that 40 containers were lost overboard and 74 containers have been damaged. Six containers are reported to be protruding from starboard side, and three from the port side of the ship.
AMSA said it sent a jet to the area to look for containers and debris and to inspect the 277-meter containership for any signs of damage or pollution, and it is working with NSW Maritime to monitor the situation and develop an appropriate response. Authorities are unsure whether the incident will cause any shoreline impacts.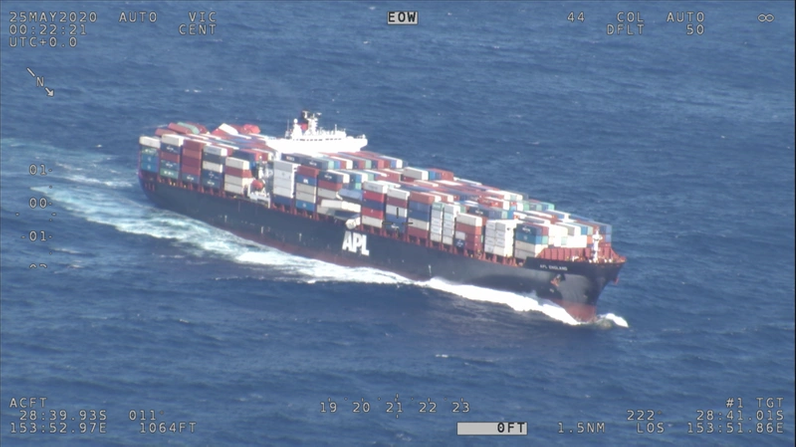 (Photo: AMSA)