Caribbean MOU Approves Proposed Revised Vessel Code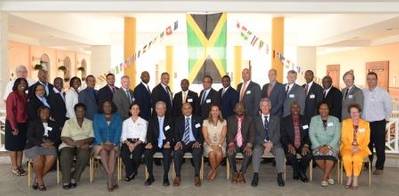 The Caribbean Memorandum of Understanding on Port State Control (CMOU) held its 19th Committee meeting in Montego Bay, Jamaica from June 24-26, 2014. This meeting was hosted by the Maritime Authority of Jamaica and the Ministry of Transport, Works and Housing presided over the Opening Ceremony on June 23, 2014. At this meeting the Committee approved the revised Code for the Safety of Small Commercial Vessels (SCV).

The meeting was attended by 14 of the 15 member States and one associate member State with only Guyana unable to attend. In addition, the Regional Maritime Advisor of the International Maritime Organization (IMO), the Deputy General Secretary of the Paris MOU and representatives from the United States Coast Guard, Lloyd's Register and the Viña del Mar Agreement were in attendance.

Ambassador Dwight Gardiner, the Chairman of the CMOU and representative of Antigua and Barbuda, stated that, "The revision of the SCV Code will further strengthen the inspection capabilities of the member States of the CMOU thus ensuring that the safety of our small commercial vessels in our region is of utmost importance."

The Technical Standing Working Group (TSWG) of the CMOU presented to the Committee and received approval of the following:
The Concentrated Inspection Campaign (CIC) on Safety of Navigation and Hours of Work and Rest for 2015;
The "Policy for the Treatment of Sub-Standard Ships";
The further revision of the Caribbean Cargo Ship Safety (CCSS) Code;
The revised SCV Code, in principle, pending the approval of the recommended amendment to the definition of a New Ship.
In addition, the Committee approved the recommendations from the Finance and Administration Standing Working Group (FASWG) for:
The CMOU record the income on an accrual basis in line with the recommendation of the external auditors to now be in-line with international standards and practices;
The development of a policy/procedure with respect to the approval of amendments to the relevant instruments of the MOU.
Members were advised of the successful staging of the 6th Annual Port State Control Seminar in Willemstad, Curaçao from April 8 - 10, 2014. Participants were provided with training on the CIC on Fire Safety Systems scheduled for September – November 2014 as well as MARPOL Annex V. Port State Control Officers participated in practical inspections on a Cruiseship and Oil Tanker. Following the seminar, two days of on-the-job training were held. Appreciations were expressed to the Netherlands Shipping Inspectorate and Maritime Authority of Curaçao for providing lecturers for the seminar.


The Committee adopted the 2013 Annual Report including the overview of the activities of the CMOU for the period and the statistics including inspections totalling 994, deficiencies reported totaling 1746 and 18 detentions. With respect to categories of deficiencies, Fire Safety Measures had the highest percent of total deficiencies at 16.48% followed by Safety of Navigation at 11.34%. As such, the CMOU will be undertaking a CIC on Fire Safety Systems from September – November 2014. The complete report will be available on the CMOU's website.

• Fire Safety Systems • Jamaica • Port State Control