Beneteau Sailboat Wins Best Boat Awards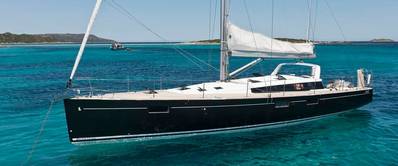 Beneteau's 'Sense 55' voted "Best Boat 2013" and "Boat of the Year 2013" by two sailing publications.

Two separate panels of judges from two premier sailing publications have confirmed that the Beneteau Sense 55 is one incredible, horizon expanding yacht.

Sail Magazine chose the Sense 55 as their "Best Boat" of the year, and Cruising World gave it the "Boat of the Year" award for the best import of 2013. All the judges were keenly impressed by the Sense 55's easy transition from salon to cockpit, massive drop-down swim platform and the feel of a multihull in a monohull design.

The French-built Beneteau Sense 55 was also named Import Boat of the Year as well as Best Full-Size Cruiser Over 50 Feet. "This is a huge 55-footer that will be a tremendous boat for living aboard. The layout was particularly impressive, with an expansive cockpit, generous saloon, and truly innovative accommodations," said Boat of the Year director and Cruising World senior editor Herb McCormick.

The dining/social arrangements compete with those of a multihull, and the transom includes an ingenious and massive articulated drop-down swim platform. The transition between the cockpit and saloon has been optimized, with just three steps taking you down to a big space awash in ambient light, thanks to a generous helping of hatches and portlights. "The result is a boat that sails like a monohull, but has the feel of a multihull, with plenty of space for entertaining" conclude the Sail Magazine judges.