Sir Ben Ainslie Praises British Superyacht Apprentices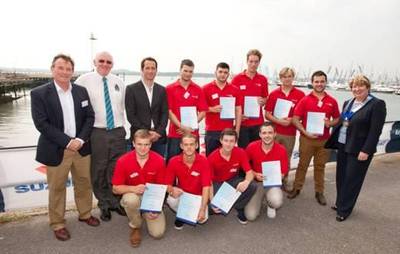 Gold medal winning Olympian, Sir Ben Ainslie, celebrated the achievements of 49 apprentices from the superyacht sector at the recent British Marine Federation's (BMF) Apprenticeship Graduation (Tuesday 16 September). Those graduating have all successfully finished their apprenticeships with members of Superyacht UK, a group association of the BMF.

Taking place at the PSP Southampton Boat Show, 55 graduating apprentices in total from all areas of the marine industry were presented with their awards by the America's Cup sailor.

The British Marine Federation (BMF) Apprenticeship Graduation is now in its fourth year, rewarding apprentices in roles varying from marine engineers' right through to riggers and carpenters; recognizing the diversity of accessible skills and careers in the marine industry.

The BMF has been working with companies to support marine apprentices for a number of years to ensure that the industry continues to thrive. The UK superyacht sector, valued at $790 million and employing just under 3,700 people*, has led the way in introducing apprentices into businesses. Over many years some of the biggest names in the sector have run successful apprenticeship schemes in a bid to develop their future workforce, including:
Yacht building company, Green Marine, with an apprentice scheme running for over 20 years, where apprentices or ex-apprentices make up at least 10% of the entire workforce. One former graduate is Jason Carrington, world renowned sailor and build manager.
Builder of superyachts, Pendennis, has been taking on apprentices for over 15 years and has trained over 150 apprentices. Just under one third of the current workforce started off their careers as apprentices.
Sunseeker International, UK builders of the world famous motor yacht has recognized the benefits of developing apprentices for over 35 years, training on average 70 apprentices annually.

Mike Carr from Pendennis and Chairmain of Superyacht UK said: "It was fantastic to see such overwhelming growing support and recognition of the importance of apprenticeships. It was a huge honour for the Pendennis apprentices to be congratulated by Sir Ben Ainslie as he sailed as a boy in Cornwall, a stone's throw away from the shipyard."


News that Sir Ben Ainslie has had a $12.4 million government grant to boost the marine industry by training apprentices, as part of his current bid for a British America's Cup team, made this year's BMF graduation event its most exciting.

Sir Ben Ainslie, who presented the certificates to the apprentices, was keen to be involved in rewarding the students for their hard work, innovation and the value they bring to the future of the marine industry.


Sir Ben Ainslie, BAR Team Principal and four-time Olympic gold medallist, comments: "Apprenticeships and training schemes are vital to encourage participation in not only the sport of sailing, but in all areas of the marine industry. To maintain the high quality and success of UK services in the marine sector that we currently hold, we must invest and commit to developing the talent of the future."


Howard Pridding, Chief Executive of British Marine Federation comments: "The success and commitment that the marine sector has to solid apprenticeships, with real long term gains, is simply outstanding. The Apprenticeship Graduation event is an important way of both recognizing and showing our appreciation to the students and companies investing in the future of the industry."


Secretary of State for Business, Vince Cable, said: "This Apprenticeship Graduation rightly recognizes the achievements of the future generation of boat builders and marine engineers. Apprenticeships offer young people the chance to reach their potential, while giving employers in the marine industry the skilled workforce they need to grow and compete. Investment in Sir Ben Ainslie's American Cup project will create new jobs, apprenticeships and opportunities for young people looking to work in this important sector."

• United Kingdom • America • Green Marine