New Savannah-Central America Route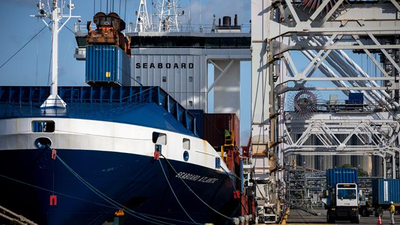 The Port of Savannah welcomed its first Seaboard Marine vessel Wednesday. The new shipping line customer supports Savannah's cold chain logistics system with one new service to Central America, and a second to Latin America and the Caribbean.
The ocean carrier's first service to Savannah links the Southeastern U.S. to northern Central America, with Georgia exports centered on frozen poultry and imports composed largely of perishables and apparel produced in Guatemala, El Salvador, Nicaragua and Honduras.
The initial Seaboard Marine service to Savannah features two vessels in a direct, all-water route, for an increase of 20,000 TEUs per year to Garden City Terminal's total vessel inventory.
Starting in June, Seaboard Marine will also offer a second weekly service for both northbound and southbound cargoes between Savannah and South America (Colombia, Ecuador, and Peru), South Central America (Costa Rica and Panama), and the Caribbean (Antigua, Aruba, Barbados, Bonaire, Curacao, the Dominican Republic, Grand Cayman, Guyana, Haiti, Jamaica, St. Maarten, St. Kitts, Suriname and Trinidad). For this service, frozen poultry exports will also form the basis of the southbound trade, with chilled produce imports northbound.
The new services will bring Savannah's weekly vessel calls to 37. This is equal to New York-New Jersey, for the most services on the U.S. East Coast.
Routing perishable goods through Savannah to serve the U.S. Southeast means produce reaches stores five to seven days sooner, for improved shelf life and product quality. Georgia's central location means shorter overland routes to inland markets, allowing time-sensitive cargo to reach stores in less time, and at lower cost.
Savannah already has a strong, established outbound refrigerated market. Handling 40 percent of all frozen poultry exported out of the U.S., Garden City Terminal is the nation's busiest export terminal for frozen poultry. On-terminal offices for U.S. Customs & Border Protection and the Department of Agriculture speed the inspection process for chilled cargo. Major Savannah-area cold storage facilities include:
•Frozen
oGulf States Cold Storage: 155,000 square feet
oLineage Logistics: 422,300 square feet (at two facilities, Savannah and Rincon)
oAGRO Merchants: 400,000 square feet
•Chilled
oPortfresh Logistics (now owned by Americold): 100,000 square feet
Chilled and frozen warehouse space in Savannah currently totals just over 1 million square feet. Two major private expansions now in the works will add 285,000 square-feet for frozen cargo, and another 310,000 square-feet of chilled storage.
On terminal, the GPA has added 15 additional refrigerated container racks, for an increase of 360 container slots. Eight of the new racks came on line in December, while another seven became operational in April.
The Port of Savannah's Garden City Terminal now features 119 electric-powered refrigerated container racks. This brings Savannah's refrigerated container capacity to 3,341 boxes at a time, counting 485 plug-ins for chilled containers on chassis.