Peel Ports Applies Air Traffic Systems for Marine Ops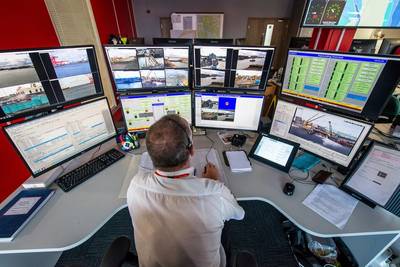 Air traffic control technology is to be applied to a commercial port group in the UK for the first time. Peel Ports Group, the UK's second biggest port operator, is investing £2.7m ($3.5m) across its network of seven Statutory Harbor Authorities to streamline marine operations.
The package of technologies includes vessel identification and tracking, solid-state radar and weather stations. It will be complemented by a new online booking system for its customers and a comprehensive people development program.

All marine operations will transition over the coming months and will be managed centrally from a new industry-leading command center at the company's headquarters in Liverpool. There will be supporting control operations and smaller satellite operations throughout the company's port network that includes seven UK Statutory Harbour Authorities.
The centralized traffic control technology has been proven in the airline industry and at the Maritime and Coastguard Agency's National Maritime Operations Center.
David Huck, Deputy Chief Operating Officer at Peel Ports, said: "This is a huge advance for our customers, our people and port operations generally. The technology will allow us to provide a more efficient, more resilient and safer service and will ensure that Peel Ports Group has a port control platform aligned to the Group's future growth plans. Having already introduced AutoGates in Liverpool and the Navis N4 terminal operating system across our network, including the new Liverpool2 deep-water container terminal, we are leading the way in using technology to transform how ports work."
To support the change the business has commenced some small-scale restructuring and both new and existing staff members will be trained to manage the systems as part of a new centralised team to be created throughout the Group.
David Huck continued: "The step change in the technology available now enables operations to be managed remotely and the decision to centralise the function was taken after careful consideration. As a result the business has made a long-term customer investment and commitment to our people and their future."
Key features of the investment include:
A fully integrated traffic management system
Solid state radar systems installed at various locations
Integrated digital VHF radio system
An automated vessel identification system
Silent Sentinel CCTV cameras
Meteorological stations with an integrated weather forecasting system.
A smartphone app for vessel pilots
A group-wide geographical information system
• airline industry • David Huck • operating system