Cross-Bay Ferry Posts Strong Ridership in December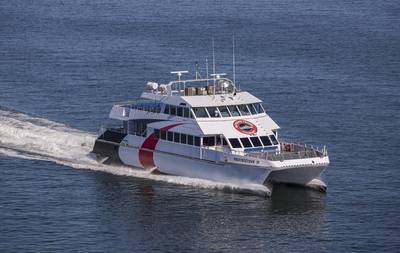 Cross-Bay Ferry organizers are reporting strong ridership levels in December, with more than 5,400 tickets sold, up from November's level of 4,700 tickets sold.
The is very positive, ferry supporters said, reflecting continued growth of demand. The details for December:
Weekend ticket sales totaled 3,734.
Weekday (Monday – Thursday) sales started slow, as expected, but then doubled in the third, and tripled again during the fourth week, with more than 1,700 weekday tickets sold.
Since launching in November, the ferry has moved more than 13,000 people.
Those results show strong community interest in the ferry, especially given the ferry did not run during two holiday "blackout" days, and during several days when weather closed Port Tampa Bay to all commercial vessel traffic, including cruise ships.

This week, the ferry won significant recognition as the "Project of the Year" for 2016 from the Tampa Bay Institute of Transportation Engineers, which recognizes projects that apply innovative techniques and have successful implementation.


Wider advertising for the ferry also ramped up this month, with advertising produced by Schifino Lee of Tampa, which designed digital billboard spots now running in Tampa and St. Petersburg, sponsored by Clear Channel, and TV commercials, with airtime donated by Frontier Communications.


St. Petersburg Mayor Rick Kriseman said he was very pleased with the ferry progress so far. "We are learning the lessons that only a real-life test can provide, which is why we wanted to run this six-month pilot project. So far, people are voting with their feet to ride it. That's a great sign for developing a better future around our Tampa Bay waterfront."


HMS Ferries Inc. also provided November financial results, reporting $64,213 in net revenue, with ticket sales recovering 46 percent of operating costs, a very high cost recovery statistic for transit. "That is the highest recovery of operating costs of any transit operation on the west coast of Florida," said project advisor Ed Turanchik. "This single vessel with limited operation is recovering two or four time more of its operating costs than our existing bus systems and lines in the Tampa Bay region." December financial results will not be available until early February.


The Cross-Bay Ferry is contracted to run from November 2016 through April 2017 to test community interest for water transit. Recently, the Cross-Bay Ferry began regular, weekday service and launched a Commuter Value Pass program with 20 tickets for $100, which equates to $5 per ticket, compared to the regular $10 one-way ticket price. That purchase comes with free taxi rides home for those who miss the last ferry trip.


• West Coast • Florida • Tampa Bay