Tore Morten Olsen
Head of Maritime Services, Astrium Services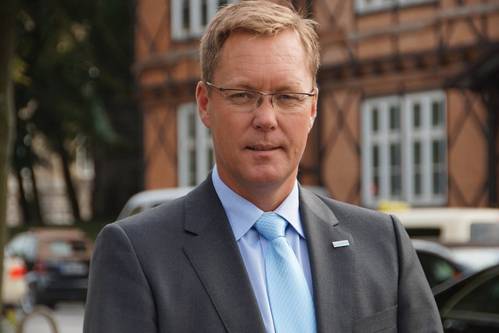 MLC 2006 is here. What is your sense that ship operators and owners will incorporate an increased availability of communications solutions for seafarers, especially in a challenging shipping market where in many sectors, operating margins are still razor thin?

The MLC asks for; "reasonable access to ship-to-shore telephone communications, and email and Internet facilities, where available." The wording is quite soft.  Plus it is located in the non-mandatory guidelines. So there's some room for interpretation. The MLC does not strictly dictate that all crew must have an opportunity to send and receive private emails on board, have access to a phone whenever they wish to call home or connectivity to browse the web or chat with their friends via Facebook. We'll have to wait and see how the flag states will define the details.
However, the pressure from seafarers for a better offer of private onboard communications is growing. We see this as a bigger driver than the MLC 2006. And ship owners will have to react.
It's important to understand that offering such services to crew does not necessarily mean an increase in costs for the vessel operator. Crew emailing, phone calling and web usage don't have to be at the expense of the vessel owner. Astrium offers an extensive range of crew services that allow crew to prepay. Take SkyFile MyMail, for example, where crew can set up their own email account without generating any administrative work for the captain and pay for their incoming or outgoing emails using Universal Card prepaid credit.

Owners offering "free" communications services to mariners is still the exception, rather than the rule, with some exceptions (offshore). Would you agree that a widening gap of "qualified" officers will increase this employment benefit in the near future?

15% of the crew interviewed for Astrium Services' crew communications survey in 2012 stated they had at least some free use of the internet on board – meaning that the huge majority, 85%, don't. In fact, while at sea, the majority of crew still have no access to the web at all. However, whenever speaking to crew, the desire to be able to access the web on board – ideally for free – is right at the top of their wish list. So, yes, a job offering for a vessel with free on board internet usage has a strong appeal and will therefore be beneficial for the employer when competing for scarce resources.

The survey shows an average length of "time at sea" for all seafarers to be 8+ months annually. At the same time, 98% of sailors reported at least limited access to communications. With a reported 1.37 mio seafarers out there, obviously this is a huge market. What are the spend trends looking like – in terms of service provided, data transmitted and/or minutes of usage over the networks you provide?

The Astrium Services crew survey implied that a growing number of seafarers want onboard Wi-Fi connectivity to the web. They bring their own smartphones, tablets and laptops and want to use them. Unsurprisingly, social media - especially Facebook - was highlighted as one of the most popular web destinations for crews. And a large majority of the seafarers stated that they are prepared to pay for connectivity.
The typical Facebook user wants to view and post pictures, videos etc., leave a comment or conduct an instant messaging chat session. Which, in the context of a vessel, requires reasonable bandwidth at reasonable cost. The changing usage patterns in private communications can in the context of a vessel best be accommodated by using VSAT. When the vessel produces significant data traffic, VSAT is simply more affordable than an L-band service. So it's not surprising to see a strong growth in VSAT installations. And to a large degree this is due to what the crew expect to be provided onboard.

What is your projection for growth in voice and data SATCOM / VSAT usage at sea in the coming year? Five years?

We expect that in 2-3 years, the vast majority of merchant vessels that belong to large shipping companies and have 20-25 crew or more will be using VSAT (including Inmarsat GX) as their primary means of satellite communications.
What we know is that most L-band users today use most of what their data allowance packages provides them, typically 200 MB, 2GB or 6GB, but it differs from ship owner to ship owner how quickly they spend their total allowance depending on their communication policies onboard for admin and crew. We also know that when ship owners opt for VSAT the communication policies normally opens up to more users and more consumption of data, both for admin and crew. Over the next five years we should expect almost all larger deep sea vessels going from MSS to VSAT to double their consumption without increasing the costs. For those already using VSAT today, we should expect an increase, but not as much as ship owners who upgrade from "pay-as-you-go" to "all-you-can-eat".

In a business where owners are always trying to keep costs down, is the price of on board communications – of any type – becoming more affordable? Survey respondents reported spending an average of $150 per month on communication costs. Would a larger subset of users paying a little bit less provide more revenue for satellite communications providers?

The $150 rough average spend by crew for personal communications is not only for satellite communications – it includes what they spend using cell phones and other means of communications when in the harbor or within GSM coverage. If they were willing to spend that much on satellite communications alone, the average personal communications offer on board would look dramatically different from what it does today.
Are crew getting more out of the money they spend on broadband satellite communications technologies than what they did, say, 5 years ago when they used MSS legacy services? Sure! Per-minute-prices for analogue crew voice has declined dramatically and new possibilities like VoIP can push the prices further down. Take for instance Simon Møkster Shipping's 23 strong fleet of offshore supply and specialist vessels, which as part of our Sealink customized VSAT service, use a unique VoIP solution for crew members from the Faroe Islands (the majority of its crew), which reduces their calling costs by at least 50%. Data rates are coming down also.

Your survey focuses on 'officers and ratings usage and need for communications solutions.'  But what about data transmissions? With ships needing constant or intermittent data "sends" for both management software and equipment monitoring information, this market, too, has to be growing. What's your assessment of this aspect of ship SATCOM usage?

The data consumption is undoubtedly growing and it's growing fast. The best way to project this is really to look at how the development has been onshore. 10 years back most of us accepted some waiting time when using the internet, whereas today we expect to be online almost everywhere and with a connection that can accommodate more and more cloud based and streaming based services. We are not completely there yet at sea, but not that far away either.
The initial focus of bringing broadband terminals on board was certainly based on corporate usage. Security concerns, the potential complexity of giving crew private internet access and, probably most of all, the cost per Megabyte, discouraged ship owners from establishing any offer for personal web usage onboard. The need for a broadband connection for business usage, ideas like the 'office at sea'; which is seamlessly integrated into the shipping company's infrastructure onshore has always had a great appeal. It made MSS broadband services like FB and IOP a great success. Crew data communications have moved more into the spotlight since then.
Besides the growing demands from crew, recent years have seen a huge surge in the amount and variety of IP applications available for enhancing vessel efficiency. This has come from the fact that Ku/C/Ka-band VSAT offers greater throughput, which opens up for more users and more "heavy" applications.  I'm thinking of online equipment/vessel monitoring, video conferencing, file sharing etc.
Normally vessel monitoring is either in real-time or as bulk data packages, depending on what you are monitoring and to what extent 'live' monitoring is needed. This data is normally transmitted via either L-band or VSAT, depending on what system the ship owner has on board. If real-time monitoring is the preferred approach, an all-you-can-eat type of data plan, like you get with VSAT, will be often most cost-efficient. Those taking the bulk transmissions approach mostly use either Fleet, FleetBroadband or Iridium OpenPort to transmit. VSAT offers the most cost-effective data transfer available as long as your vessel or fleet has the volume requirements (I.e. more data than would be viable on L-band). With the massive savings a vessel or fleet can make by just reducing fuel consumption by a few percentage points it is no surprise that e.g. live engine monitoring sees growing popularity. 

Finally – in a nutshell – how can an operator reduce costs while increasing service (to crew) and still maintain quality or improve it?

An operator reduces cost when he starts sharing his airtime commitment between crew and corporate usage. Quite typically, airtime commitments are not fully used by corporate usage alone. When he starts "re-selling" data to crew by giving them access to VoIP telephony, web access or at least to email, he gets some of his money back. Meanwhile, crew are happy to get a means of communications they previously did not have on board. A typical win-win situation.
As an example, using our WaveCall standardized VSAT services on more than 35 vessels, CMA CGM is able to provide crew services at prices that are not infinitely far away from those of shore based connectivity. CMA CGM increase the crew welfare offer on board without increasing their own operational communication. Because the crew spend covers the additional monthly cost of the services. Of course, it's absolutely key that management and billing is straightforward and transparent when spreading the cost between different parties. And this is a job handled by the XChange solution from Astrium. XChange provides enhanced control and management of connectivity as well as a comprehensive set of Internet-café like crew communications features. 
CMA CGM's fleet covers global trade routes, so extensive Ku-band coverage was a key requirement when choosing the WaveCall solution (Aug 2013). The WaveCall proposition to CMA CGM is based on a cost-effective 5 GB/month data plan, which enables a significant increase in email, web browsing and voice calling, when compared to the 200MB/month FleetBroadband packages used before. So the company manages to meet demand for enhanced connectivity for crew and strengthen its operational communication, without paying any more, in fact less in this case, than the previous communication systems it used.