Brian Mills
Student at Webb Institute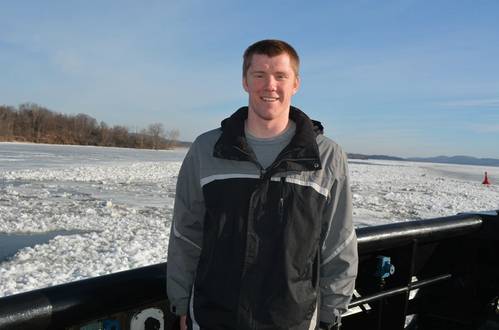 MarPro's Future Leader Series
Maritime Professional's newest feature – both here on line and within the pages of our quarterly print magazine – involves highlighting the profiles of today's maritime academy cadets from around the country. These cadets and students represent a large subset of the future professionals who will one day provide the leadership, innovation and technical expertise for the greater waterfront – here and abroad. We'll do this in sequence, working with those schools that choose to participate.
In a nutshell, the profiles will let readers and employers know who is coming up; it lets the students themselves shine a bit and gives the academies a chance to showcase their best and brightest. The profiles center around five questions for each student – we call it "five questions in five minutes."

Our next featured cadet is showcased below:
Brian Mills
Webb InstituteGraduation Year: 2016
Why this school?
I never grew up around the water, but with both grandfathers retired from the Navy, I had been interested in ships ever since I was a young boy. Whenever my family would visit the beach, I would eagerly ask if there were any ship museums in the area, practically begging to go see them. So when I began my college search, Naval Architecture and Marine Engineering immediately caught my eye. When I visited Webb, I fell in love with the close-knit environment and maritime focus of the school.
What keeps you here?
The camaraderie of my classmates helps me work through the projects and all-nighters. After having spent the past three-and-a-half years with the same 18 people, we feel almost like a family. Webb also offers a wide range of contacts and numerous networking opportunities. The required internships that take place every January and February gives you a break from schoolwork and the opportunity to do hands-on learning, as well as experience different parts of the industry and world. 
What is your major and what career do you intend to pursue?
Like every other student at Webb, I am majoring in Naval Architecture and Marine Engineering. I am applying for a commission in the Coast Guard. I want to sail for a while before I transition into repair or acquisition.
What one thing should prospective employers know about you?
My broad education will make me a very valuable employee. The Webb curriculum covers many facets of ship design, and the internships give me even more varied experiences. I have the skills to tackle many different types of projects, and the ability to see the big picture, having experienced how ships are designed, built and operated.
Tell us about your sea training or internships.
My freshman winter internship I interned at the Electric Boat Quonset Point yard, working as an outside machinist to drill holes and install equipment on submarines. That summer, I sailed on the USCGC Eagle, training with the Coast Guard Academy cadets as we sailed around the Atlantic. My sophomore winter was spent in San Diego aboard a Military Sealift Command tanker, refueling Navy ships at sea. Between my sophomore and junior year I worked in the Electric Boat naval architecture office. During my junior winter I worked in the structures department of Newport News Shipbuilding, setting up and running FEA simulations. This past summer I spent working for Metal Shark Aluminum Boats, supporting both new designs and modifications to boats already in production. My senior internship was spent at General Dynamics National Steel and Shipbuilding Company, working in the production liaison groups for both hull and outfitting.