DeFazio Honored with 2019 SCA Leadership Award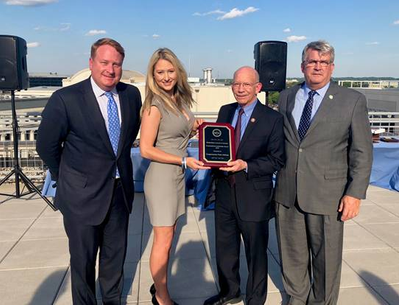 The Shipbuilders Council of America (SCA) honored U.S. House of Representatives Chairman of the House Transportation & Infrastructure Committee, Peter DeFazio (R-OR) as a 2019 recipient of SCA's Maritime Leadership Award.

As recipient of the Maritime Leadership Award, Chairman DeFazio is recognized as an exemplary leader in Congress who has demonstrated outstanding dedication and support of the U.S. shipbuilding and repair industry. Overall the American maritime industry, including shipbuilding and repair, creates more than 650,000 jobs nationwide, and contributes more than $150 billion annually to the nation's economy, according to a recent economic study by PricewaterhouseCoopers and the Transportation Institute.

In Oregon, the American domestic maritime industry adds $864 million annually to the state's economy, as well as more than $553 million in worker income.
The award was presented during the SCA annual meeting in Washington, D.C. in May. The event saw the attendance of nearly 100 shipyards and partner organizations to discuss the status of the U.S. shipbuilding and repair industry and to bring awareness to the U.S. Congress of the industry's critical role in national and economic security.