Ulrich Kroll
Retired containership captain, Hapag-Lloyd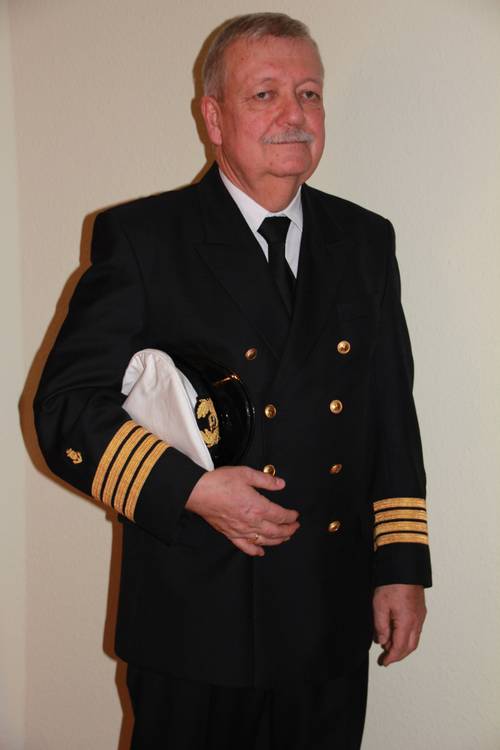 The oceans have greatly influenced his life, but now Ulrich Kroll has left the bridge forever. He won't miss the sea or his ship, says the recently retired Hapag-Lloyd captain. Instead, he'll now spend his time on a rather unusual hobby.

Ulrich Kroll, 64, started his career with Hapag-Lloyd on August 2, 1971, in Bremen, with safety courses on the training ship Deutschland. Then, on October 14, 1971, he signed on to sail with the MS Hessenstein, a general cargo ship that was in service on the Far East route. After more than 44 years in shipping, he retired at the end of 2015. Kroll's last position was as captain of the 4,400 TEU Glasgow Express. He spoke about his experiences on board – and his life on the world's oceans.

Mr. Kroll, you first went on board when you were just 20 years old, soon after graduating from high school in Berlin. What was your first journey? Were you immediately hooked on sailing?
To be honest, no. I'd already been around the world a bit as a teenager, and I was familiar with several parts of Europe and the United States. In this respect, I was a step ahead of some of my fellow trainees and perhaps a bit wiser about the world than they were.

Does that mean the trip was disappointing?
No, not at all. But the real enthusiasm only came later.

What had originally motivated you to go into shipping?
There were basically three reasons: First, at the time, an exotic aura still surrounded the seafarer's life. Things that we felt were extremely rare back then in the 1970s can now be found in the shop around the corner, such as fresh mangos, pineapples or passion fruit. For example, in those days, we traded German apples for fresh pineapple in Asia – or empty plastic containers or glass bottles, which were highly sought-after in Asia at the time, in return for various local specialties. Even that is hardly imaginable these days. Second, working in shipping was comparatively well-paid. And, third, life on board was exciting – and there was always a lot to recount once you returned home, things that parents, siblings and friends were very eager to learn about.

And what was particularly onerous?
Communicating with my family was incredibly difficult, and we sometimes went for weeks without hearing from each other. No sign of life. Nothing. Back then, we sometimes used mail buoys: Mail was stuck in a big coffee can or something similar, together with cigarettes, liquor and some U.S. dollars for postage. The mail buoy was soldered up and left in the water near a port. There, it was usually retrieved by fishermen – and then they paid for our mail's postage and handed it over to be mailed. It's strange that mail was really never lost. These days, there's email and Internet on board. On top of that, one can telephone inexpensively from most countries – whether with cellphones or landlines.

After a few years with Hapag-Lloyd, you left the company in 1976. But then you came back after only four years. Why?
After earning my captain's license, I was looking for new challenges with another German shipping company, but then it unexpectedly went bankrupt. So I applied for a job with Hapag-Lloyd, and they happily took me back. The company had an outstanding reputation back then – and nothing has changed about that. But there were still some people that chose not to work for Hapag-Lloyd. And the reason for that was often very simple: At the time, even in maritime operations, the company placed a lot of value on the outward appearance of its employees, and many seafarers were anything but mainstream in terms of clothes. Not everyone was thrilled about "wearing a uniform" – or about shaving their bushy beards.

What does the sea mean to you?
The sea has shaped my life. It's hard to put into words, so I'll put it like this: It was usually an exciting challenge, but time and again frustration and working at my limits, too.

Tell us more.
At sea, a person is very close to nature. Back then, as navigating officers, we used to use the sun, moon and stars to determine our location at sea – after all, technical navigation was still in its infancy. When we were off-duty, we would always watch flying fish, leaping dolphins, whales and other species – but also marvelous sunrises and sunsets and the craziest freakish weather, such as when you were tormented by towering waves for days on end. At those times, the crew could hardly imagine getting any restful sleep. But there were also boring, endless watches at sea or at anchor.

Were you ever afraid?
No. But I had a whole lot of respect for the sea. The more responsibility I had, the greater my respect became. You see, at the beginning, during one's training, it was just about your own life. But later, as an officer of the watch or captain, you were responsible for everyone on board. That wasn't always easy.

What were your favorite ports?
My favorite ones were La Spezia, Barcelona, Hong Kong, Vancouver, New Orleans, Mauritius, Durban, Cape Town, Colombo, Sydney, Valparaíso and Vera Cruz. Vera Cruz, in particular, was very popular back then, as the berthing times lasted between four and eight days. The port's infrastructure wasn't all that good. The one container crane they had was frequently out-of-service due to a lack of spare parts. And the extra mobile crane was extremely slow. There, you could spend a lot of pleasant evenings on the "plaza." We also sometimes lay in port for more than a week in Durban, South Africa, because the violent storms made it impossible to work. And ports like those of Barcelona, the City of Vancouver, Valparaíso and Hong Kong are still popular, too. If the work schedule allows it, you can get into the downtown area fairly quick. In other ports, such as Rotterdam or Antwerp, you need at least an hour these days to reach the city center by car, bus or taxi. I regret to say that, in general, the opportunities for shore leave have gotten much worse than they used to be.

What are the on-board traditions that have survived to this day?
Off the top of my head, there is the equator baptism. I had my baptism in 1971, when I crossed the equator for the first time. On the day beforehand, there was the baptism ceremony – which the entire crew had prepared very meticulously and long in advance, when the names of those to be baptized were announced. With most of the crew participating and wearing costumes according to their role in the ceremony, the event was held from morning until afternoon regardless of the number of people being baptized. After going through various stations, such as doctor, pastor and hairdresser, the person to be baptized was dunked in a pool several times – and then they also received an impressive baptism certificate signed by Neptune and the captain. As far as I know, this tradition is still alive today – though very slimmed down and celebrated less lavishly. There are also ceremonies for when you cross the Arctic Circle.

Your seafaring career of over 40 years recently came to an end. Do you miss the sea and your ship?
To be completely honest, not really. I intensively prepared for this new phase of my life, and I'm looking forward to it full of joyful anticipation and enthusiasm.

And how are you going to keep yourself busy in your retirement?
My wife and I will be dividing our time between Bremen and southern Italy. We want to enjoy the "dolce vita" of the south in the Basilicata region. Last year, I harvested my own olives for the first time and had them cold-pressed at a nearby oil mill. This time, there were only 40 liters of local, organic, extra-virgin olive oil from about 250 kilograms of olives. But I figure that I'll be able to significantly increase the crop in the coming years. Many relatives and friends are already earmarked to get some. Believe me, my olive oil is one of the best!
Source: Hapag-Lloyd Insight