René Kolman
Secretary General, International Association of Dredging Companies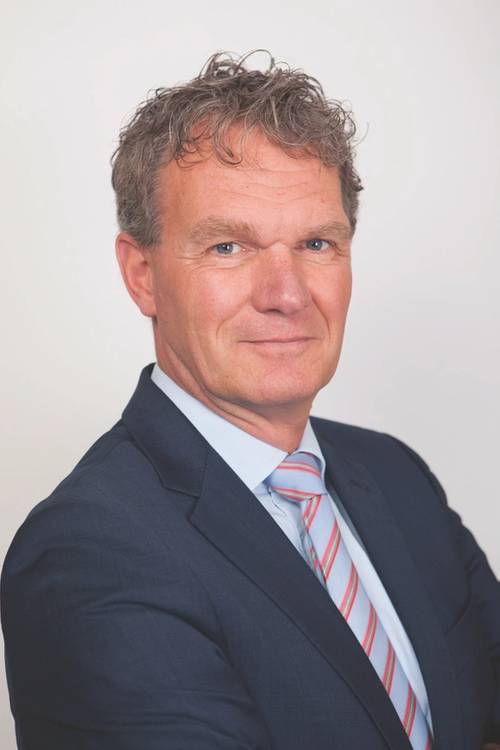 By Greg Trauthwein
In true Dutch fashion René Kolman is refreshingly forthright. Kolman assumed the mantle of leadership at IADC more than seven years ago, coming to the post from the landscape and garden trade association business. But his roots are in maritime, having spent 18 months after high school in nautical school, and he saw the opportunity to lead the IADC as a homecoming of sorts.
"When I came in, I didn't have any short or long term objectives, as I just started working in the dredging industry, so it was a big learning curve," Kolman said. He relished the challenge to work in this unique maritime niche, which is a relatively small and tight-knit, yet fiercely competitive community dominated by some very large corporate entities. "Working with contractors in general it is a very special dynamic: they cut each other's throat in competition, but never completely; because tomorrow they have to work together and will likely be friendly. You should be able to walk on eggs, being diplomatic yet competitive."
Since starting in 2008 and becoming Secretary General in 2010, Kolman is most proud of broadening the activities of the IADC over the last few years to better serve his constituents, crediting a new and diverse website but more importantly his colleagues and coworkers, who are independent and hard-working. There is a Latin phrase for it, I am a "Primus inter pares" meaning first among equals. 
The importance of IADC today:
I think most importantly, we are seen as a trusted source of independent, neutral information for the world. We are working for the dredging industry, but we are independent and neutral. Another thing: with all of the information on our website, and all of the information we publish, it helps to communicate the importance of the dredging industry to the world. The term 'dredging up' something can have a negative connotation; in a lot of languages terminology around dredging can have a negative connotation, and I think it is important to inform the public about the industry and the good that we do.
Dredging "by the numbers":
We publish a publication, Dredging in Figures, but we had to stop publishing figures on the closed markets because we are not able to verify the figures. The closed markets are chiefly the United States and China. IADC is aiming for level playing field, and we are working to receive verified information and open these markets.
In total IADC has 10 members, and worldwide there are only about 30 companies qualified to become a member. It is worthy to note, however, that its membership represents about 80% of dredging capacity in the world's open markets. There are many more dredging companies than that, but to become a member of IADC you need to be privately owned, you should work outside of your own country and have at least $25 million in seagoing equipment. 
The largest hopper dredger is 48,000 cu. m. and that is really huge. Amongst IACD members you will find the largest pieces of dredging equipment in the world. Today you are also starting to see a whole new generation of equipment, including cutter suction dredgers with a capacity of 40,000 kW. In the dredging sector newer, larger generations of equipment historically create their own work, and this is no exception with the new generation of cutter suction dredgers. The big companies are not averse to investing in new technology, and now is a particularly good time as the shipyards are not as busy and are under some price pressure and urgently need some work.
The Global Economic Impact of dredging is an elusive number to identify, but suffice it to say: Without dredging, there is no marine world trade; harbors must be maintained. If you look at the value of world trade overall, an industry like dredging, with a turnover range between 10 and 12 billion Euros, is a very important piece of the puzzle.
Today what are the challenges of IADC?
If you take an hour glass, on one side you have the public at large and the need for information. On the other side, you have all of the information to fulfill the public's need. The biggest challenge for IADC is the middle of the hourglass; getting that information out to all. If people don't know anything about dredging, they often disagree and oppose dredging activities. It's difficult to have a discussion with them without them seeing the entire picture.
How is IADC working to bridge this communications gap?
We are completely updating our website to facilitate the efficient search and recovery of information. Looking at the site now, everything is available as .pdf files but that is not efficient. In a few months time this will be transformed into a 'knowledge center.' Making information available readily and easily electronically is essential, particularly to attract and maintain the younger generation.
What do other challenges do you see, from a legislative lens?
Considering where you are calling from I would say The Jones Act, and given the new president, I don't think that the opening of the market will be any closer, as I think there will be more protectionist behaviors. We think this is bad for the dredging industry. Another challenge centers around environmental impact assessment and environmental permits. The permits requirements sometimes are an irrelevant request because of a lack of knowledge of the impact of the new infrastructure and the dredging process on the environment.
Another challenge is not really legislative, but it is important, and that is tapping the knowledge of dredging companies. If you look at a typical dredging company you see a highly educated workforce with much practical experience – there is so much knowledge available. It really is a waste that this resource is not involved move often early on in regards to very large, complex projects. 
Looking at the business of dredging, what challenges do you see?
At the moment, overall, we have a very challenging market situation; simply put there is less work available and companies are looking to diversify. One area where you see these companies expanding is in the offshore wind energy and renewable markets. Another challenge is simply dealing with sustainability. The companies acknowledge that they must do business in a sustainable way, and you're starting to see innovations such as the use of LNG as fuel on board the dredgers.
Looking at major projects completed last year, can you point to one or two with major economic impact?
It is really hard to gauge the real economic return on recently completed projects, but I think the Suez Canal dredging project has had a tremendous impact, chiefly because sailing distances were shortened. At the moment world trade is decreasing, so there is less benefit from the Suez Canal project. Another project, perhaps less well known is the Sand Engine project off of the Dutch coast. In the Netherlands and Belgium, two low lying countries, if we don't protect ourselves from the sea than a large part will be flooded. If you take into account a rising sea level, the urgency is even greater. Here we have to replenish our beaches every 3-4 years, harming some sea life. The Sand Engine seeks to use the force of nature, specifically putting 20 million cubic meters of sand in front of the Dutch coast, in a specific shape, so that wind and wave disseminates the sand naturally along the coast for several years. Due to this large reclamation there is no need any more to replenish every 3-4 year which is less harmful for the environment (read about the Dutch "Sand Engine"
here
).
You see more and more in the dredging industry the use of nature, working with nature to find long-term sustainable solutions. You can see a lot of these projects shaping up globally, and the Army Corps of Engineers in the U.S. is at the forefront as well. I may be against the Jones Act, but the Army Corps of Engineers in the U.S. is doing many things that are contributing to the dredging community. Projects like this have less of a direct economic impact, but I think long-term they contribute strongly to the overall world economy.
In conclusion, where do you see opportunities for your members?
Dredging activities travel around the world. Today there are opportunities in the Far East and South America. There is much need for dredging around Africa, but this will be difficult because projects are often financed by the Chinese government and the work will be done by Chinese contractors. On the other hand, the offshore wind industry is generating a lot of work.
(As published in the June 2017 edition of
Maritime Reporter & Engineering News
)