Mario Azar
President, Siemens Oil & Gas and Marine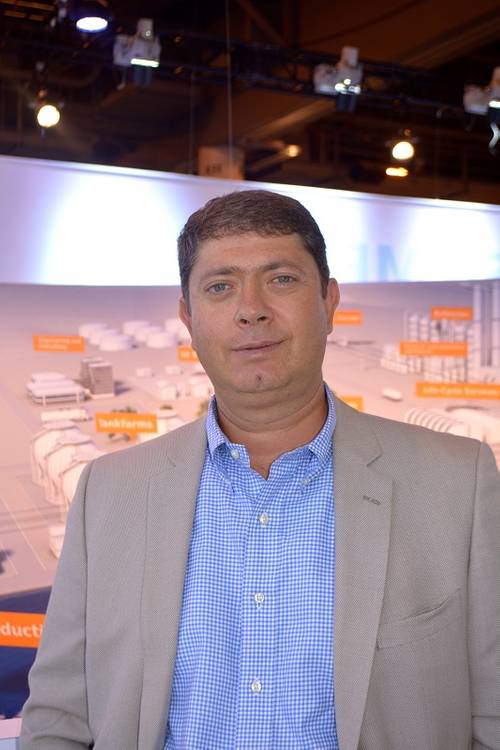 By Greg Trauthwein

Say the word "Siemens" and it likely means 100 things to 100 people. A common thought would be 'big.' 

The German conglomerate is vast in its product lines, engineered solutions, and geographic presence. Late in 2014 Siemens officially enacted the plan to combine its offshore oil and gas and marine business units, collectively a $1.5 billion enterprise, with Mario Azar at the helm. "Siemens was soul-searching, trying to figure out 'who we are, who do we want to be,'" said Azar. "We defined three core pillars to focus on as a company: electrification, automation and digitalization."

From introspection was born this reinvigorated business unit, bringing together a collective set of business minds and engineering talents to complement each other.

"Siemens serves many verticals (markets) but oil and gas is an important market" for the company, said Azar. "So we looked at it and we saw that the business unit's oil and gas solutions is heavily focused offshore. We had a different unit in Siemens that was focused on marine systems, electrical management and propulsion, electrical propulsion systems for all kinds of vessels, including oil and gas, but also commercial vessels."

The combined group represents an engineering acumen and product lineup that Azar is comfortable comparing with any other entity in the world. "We pulled it together and now we are refocusing on going to the shipbuilding industry, talking about how we could electrify not only the drilling drives and automate the drilling process, but also electrify the propulsion, the drives and motors, and the automation of the (entire) vessel."

This Siemens business sector has a stronghold in Scandinavia, but it is global in vision and reach. "(Norwegians are) seamen by heritage. They like the business. So we have developed a lot of our know-how over the years in Norway, and it remains our offshore brain trust," said Azar. To this end, Azar's business unit is literally setting up shop around the world – a feat made easier courtesy of Siemen's existing global office network – to be closer to where ships are being built, primarily in China, Singapore and South Korea. "We developed a second hub in Singapore, and a hub in China, that are heavily supporting from Norway," said Azar

Standardization
A driver in combining the Siemens Offshore Oil & Gas and Marine units was to develop a higher level of standardization in product, manufacture, assembly and service, as the two distinct business sectors share many commonalities in the technical requirements for their drives.

"This is now focused on (developing) the electrical drives, (specifically) looking at standard technology platforms for the electrical drives that are going on these vessels," said Azar. "We've essentially doubled our R&D and brain trust in combining these two groups and now we are unifying 'the path forward?' This includes 'how do we produce,' because the marine units (before the business unit integration) were producing not only in Germany but also in China. We are producing our drives mainly in Norway. So now we're looking at the whole production network and looking at 'how do we globally set it up for the different markets?'"

With the trend in shipbuilding toward outsourcing of technically complex components and systems to qualified engineering and manufacturing entities, creating a situation where advanced units are delivered to shipyards ready to 'plug and play,' the Siemens strategy is designed to advance its position among shipyards that increasingly seeks to import rather than develop, manage and house internal capability.

"Modularization is a trend, and it is a trend that we are tightly focused on," said Azar. "Our business unit is a little bit more than just strategy, as we have five global segments. For example, Siemens has introduced a "modular home" concept to the O&G industry call E-houses. E-Houses are customized, fully equipped and pretested modular power substations for power supply. E-houses are completely developed, manufactured, assembled and pretested at the factory, and installed, connected and put into operation on site using plug-and-play technology. 

We are also fabricating there. We have a segment for water solutions and we are fabricating the water treatment modules – also plug-and-play – in that yard. So, you know, it's not just about the drive and electrical. When you talk about an FPSO, now we have in our portfolio, whether it's E-House, whether it's a compression module, a power generation module or water treatment, all these different modules that go on the topside. We build them and can offer them to the shipbuilder."

Down is the New Up
Having just stepped into this post a few years ago, the current swoon in energy pricing is the first "down cycle" for Azar. "I think it's actually healthy. If you really listen to the customers, the way they see it is their profit will be their profit; the cost is what needs to adjust. The oil majors look at it and ask 'how can the costs adjust so we could still participate with a $50 barrel?"

Azar believes that Siemens and companies like it – companies that produce automation technologies that demonstrably and positively impact efficiency and costs – will emerge from this down market even stronger.

"They (the oil majors) see it as an opportunity to recalibrate. It's like the real estate market. Before the crash, houses were way overvalued and it was, in a way, an adjustment. I think the market is seeing this as also driving a necessary adjustment. Now that doesn't mean people would not like to see the $100 barrel again, but it means, it is viewed as an opportunity to recalibrate. But suppliers can only could go so far; they're not going to close the whole gap. Part of the gap needs to be closed also by looking at how the requirements are defined, and how they could use technology to do things smarter and cheaper."

While Azar admits that companies in the sector are still conditioned to simply demand a percentage price cut rather than engage actively in conversation regarding the fundamental value of investing in new technology, he does see the beginning of a fundamental shift toward a more holistic and long term assessment of technological specifications, technological needs and having a conversation with key suppliers regarding their capability in helping to make operations more rational and cost effective.

"Our biggest challenge, really, is to make sure that we continue to develop relevant solutions, adding value through engineering and project execution, and sometimes procurement and fabrication," said Azar. "We need to be one step ahead. Always." 

Career Shapers
Mario Azar, President of the Houston-based Siemens Oil & Gas and Marine global business unit

Every leader has a moment, a person, an experience that helped shape their outlook, management philosophy and career. In the case of Azar, who came from the power industry, he points to impeccable customer service as an indispensible element toward growing his brand, his business.

"I guess one experience that shaped how I think is when, over a Christmas holiday, a power plant shut down because a turbine simply went out, creating a major power outage. The turbine just rubbed down and the bearing had to be refurbished. We had to quickly assemble people to immediately deploy. We had people that volunteered their Christmas holiday to go and help, just because they believed in what they do. That was an experience I'll never forget. It taught me about people: their character, their commitment, their values.



 (As published in the June 2015 edition of
Maritime Reporter & Engineering News
-
http://magazines.marinelink.com/Magazines/MaritimeReporter
)