Linda McKernan
Student, SUNY Maritime College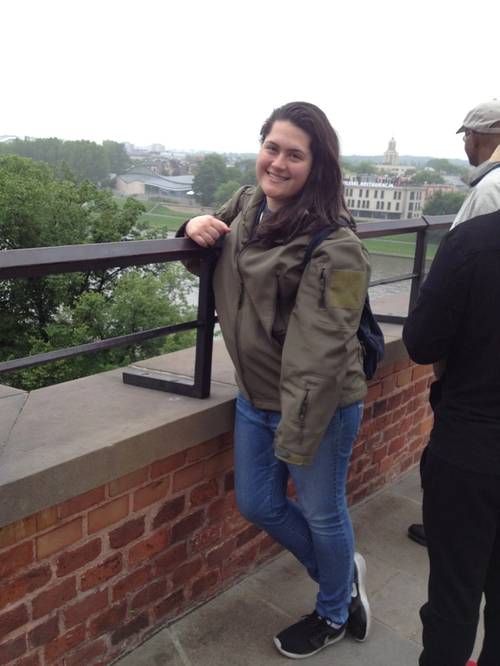 Linda McKernan
SUNY Maritime College
Graduation Year: 2017
Why SUNY Maritime?
I think a lot of people are here because their parents say, "Hey, there's this school that will make you a lot of money." I didn't know what I was getting into at first but I did my research and found out it was a really good school. Coming here has been the best decision I've ever made.
What keeps you here?
The regiment has the biggest part of campus, but civilians are here too and, as a civilian, I want to do whatever I can to help other students. I really found my place when I became a student worker in the Office of Student Affairs. In that office, you learn every aspect of the school. Knowing that I've done something to be a leader, to be a role model, that people can say about me, "That's an outstanding student," means so much.
Plans after graduation?
One thing I do want to do is get my Master's Degree. I'm thinking operations or maybe logistics. I love day-to-day operations. I'm a very organized person; I like to know everything that's going on. The shipping industry is such a big industry and it is worldwide and it's not going anywhere. Even if I get a Master's and don't go into the shipping industry, I have a business degree and the possibilities are endless.
One thing prospective employers should know about you.
I live to work and I'm not afraid to ask questions. I'd rather do it right and ask a million questions than do it wrong. I'm a very detail-oriented person. I love to-do lists, I love checking things off them, I love being in the know.
Sea training or internships?
Last summer, I participated in the international transportation and trade study abroad program. We did four countries in four weeks: Turkey, Greece, Latvia and Poland. We went to ports and saw day-to-day port operations and we saw tugs and tug operations. We saw Tripoli and they showed us how they have to unload half the ship and then get a tug to turn the ship around and unload the other half because they are so big.