Klaus Stahlmann
CEO of MAN Diesel & Turbo SE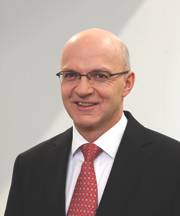 MAN, the world's largest provider of two-stroke diesel engines, started year 2010 by merging MAN Diesel SE, producing engines for maritime applications and power stations, with their compressor and turbine technology manufacturing division MAN Turbo AG, into one single strategic business segment, MAN Diesel & Turbo SE. Still utilizing, for some time, the vast orderbooks built up a few years back, in its manufacturing, the company's main strength in the near future will to some extent shift from marine engines to power station supply and after sales. Reporter Henrik Segercrantz talked with the CEO, Klaus Stahlmann about new market strategies and technologies.
"The reason for this merged company MAN Diesel & Turbo was really to create on the one hand, what I would call, a counterbalance to the commercial vehicle side. This was specifically needed due to the fact that with the buying of MAN Latin America from Volkswagen as well as with our investment in (Chinese truck manufacturer) Sinotruk, the commercial vehicle side was becoming a little bit of an overwhelming part within MAN. On the other hand and even more important, we are now able to offer complete packages like DCC (Diesel Combined Cycle) and waste heat recovery systems to our customers as well as more development opportunities to our employees," Stahlmann explains. Together with reduction gear manufacturer Renk AG, MAN Diesel & Turbo SE forms the strategic business area Power Engineering within the MAN Group. "It is a good counterbalance," he notes. After the merger MAN Diesel & Turbo has formed four strategic business units, "quite equal in size." The Engine & Marine Systems comprises low speed and medium speed engines and the business unit Turbocharger. The second strategic business unit, Power Plants, is according to Stahlmann "really a key business, which buys the motors and components from the Engines & Marine Systems unit." The strategic business unit Turbomachinery is on the market in two sectors, Process Industry and Oil and Gas, and the after sales side now combines the old PrimeServ after sales units of Diesel and Turbo. Stahlmann points out that "those four areas are a little bit in different cycles," from the financial and commercial perspective.
Having operated as one company already from the start of 2010, the merger became registered in March. According to Stahlmann, MAN will be seeking to pool its expertise in large-bore diesel engines and power plants with its strengths in compressor and turbine technologies. "After Sales is a very stable business, that is driven by our own engine and machinery population. Obviously this will grow. We will benefit when there are more ship engines, compressors, steam turbines or gas turbines in the market," he points out. "Power Plants is still a promising business. The energy requirements of the global population and the growth of the population specifically in the BRIC countries will continue so that this type of business is still growing." When describing the current state of the Engines & Marine Systems and Turbomachinery for Maritime Reporter, Stahlmann notes that these two are "obviously a bit cyclical businesses, but are also on different cycles. In the Turbomachinery business unit, for example, the recovery has already started to happen," he points out. "In fact, over the last couple of months we have seen a stronger demand coming out of that one." But regarding the low speed and medium speed market of the maritime side, Stahlmann notes the market is still weak. "Nevertheless, the freight rates are starting to recover and we are seeing slight improvements specifically on the medium speed side in certain areas, specifically the tug boat sector and in supply vessels on the oil and gas side. By also considering certain naval applications we are seeing a sign that the top of market is picking up again. So we are in my opinion very well positioned specifically now, with the merged company, to cater for the future." On the Power Plants side the company can now offer a complete product portfolio comprising of diesel engines that can be combined with steam turbines, as well as with gas turbines, a "nice" possibility, according to Stahlmann.  
Managed from its head office in Augsburg, the German-Danish engine and turbomachinery specialist decided, back in 2006, to switch entirely to licensee production of two-stroke engines, by 2009. Affected by this decision was the production in Fredrikshavn, Denmark, where the production of smaller four-stroke engines and stationary generating sets continued for some time. A year ago, however, MAN announced it is ceasing engine production in Fredrikshavn due to the financial and economic crisis and the market forecasts for the maritime sector. The production of the 21/31 and 27/38 engine type series was to be relocated either to other locations of the MAN Diesel production network, or alternatively to licensees, by the second quarter of 2010. "What we have done is we have closed our factory in Fredrikshavn. The affected types of own-produced engines will be transferred to Augsburg but we are also proving the option to send them to India," Stahlmann reveals. "We have our own factory in Aurangabad where we are doing a lot of engineering for the two-stroke as well as the four-stroke side."
MAN Diesel & Turbo currently produces four-stroke engines in Augsburg, Germany, in Saint-Nazaire, France and in Aurangabad, India. There are today some 36 licensees of low-speed and medium-speed engines throughout the world. Of these, twenty are low-speed engine manufacturers. "In terms of our strategy and let's say, global footprint, we are with the merger quite Europe-centric regarding our production network," Stahlmann continues. "We have some twelve production sites in Europe, one production site in China and one in India. Now we are planning to enhance these two and are also trying to look specifically at one market which is quite interesting for us, Brazil. In Brazil, with the MAN Group, we believe we have quite a strong foothold. There we see potential investments and an interesting market e.g. on the power plant side where, in January, we got a quite large contract almost worth 300 million euros. We are seeing huge opportunities for us there."  
When asked about a possible move of engine production to India, Stahlmann explains: "What we are seeing is that there is something we will have to define. Which types of engines we want to go for on the four-stroke side. Which engines do we want to go for in the licensee model, and which engines in own production or through a joint venture partnership. This is something in the strategic perspective that we will be discussing this year, and we will make a decision where to go."
Regarding China, Stahlmann stresses: "We need to win the battle in China. China has the clear wish to become the world nation number one. For us it is very important to be present in China with our licensee models specifically on the two-stroke side, and support all the developments which are being done for the Chinese market. We still believe that our licensee model on the two-stroke side is the right model so we will continue with this. It is going to be very important that we have a good coverage in China which is ensured by our organisation in Copenhagen, with the help of our office in Shanghai, which supports the local licensees." On the turbocharger side, MAN is planning to transfer the assembly of turbochargers, presently being done in Shanghai, to their setup in Changzhou. Stahlmann also notes the company is introducing the small S35 type low-speed engine, specifically developed for local coastal vessels required in China.
Tier II and Tier III compliance process
The first Tier II compliant MAN B&W engine, a low-speed two-stroke engine of 6S50ME-C7 type, built by licensee Hyundai Heavy Industries Engine & Machinery Division, was this spring installed in a Teekay shuttle tanker, to be delivered by Samsung Heavy Industries in July this year. This milestone relates to MAN's decision to re-launch its product portfolio, making all its engines compatible with the emission limits of nitrogen oxides, NOx, established by IMO in its Tier II regulations. Hence the company's whole engine range, two-stroke and four-stroke, already complies with these standards ensued now by corresponding implementation measures.
The company's St. Nazaire, France Works recently announced it has received class approval, by DNV, for its first upgraded twenty-cylinder 28/33D prototype 9,100kW four-stroke medium speed engine for which the company claims a good power to weight ratio as well as fuel efficiency, using the new TCA33 turbocharger, especially tuned for the IMO II and EPA Tier II compatible V28/33D engine. The first upgraded 20V28/33D engines on order are scheduled for delivery in the fall.
MAN Diesel & Turbo is currently focusing on the next step, to achieve full compliancy for its engines with the even more stringent emission levels of Tier III, by 2016. Regarding Tier III, and the issue of sulphur emissions, Stahlmann notes: "There are obviously different ways to skin that cat. We are looking at all the means and ways be it Exhaust Gas Recirculation, Selective Catalytic Reduction, or Scrubber technology." Stahlmann points out that the ways ahead regarding sulphur is not a clear path, and that there are possibly different technologies going forward. "We have not finally decided where specifically to go, the selective catalytic route or the EGR route. We are looking at both. We have made both developments on the two-stroke and on the four-stroke side, and I believe it will be open to what type the industry will go for. We will have to keep that one a little bit open until 2016. That is my basic view, regarding the NOx emission side." On the sulphur side, Stahlmann asks will gas be the (future) fuel, or will reduced sulphur fuels be used in ECAs. "We are keeping ourselves open and are keeping developing both. This is depending finally on the shipowners decisions, made on the basis of their strategies where they want to go and which type of technologies on the ships will be used." 
For some time already, research and development work has taken place by MAN, at its R&D Centre in Denmark, on developing an Exhaust Gas Recirculation (EGR) installation that reduces NOx emissions from a big two-stroke main engine installed on a commercial vessel by half from its IMO Tier I level. MAN Diesel & Turbo's Marine Medium Speed business unit in Augsburg today also offers a full product line of SCR systems for all engine types in its sales program.
Developments on the turbocharger sides
A product which in the coming years is bound to boost the engine performance is two-stage turbocharging, now being developed. The company announced recently it is now ready to bring two-stage turbocharging to the market with the introduction of its TCX generation. The reduction of exhaust emissions is a primary target in developing the next generation of large-bore diesel engines. Emissions are reduced by increasing the mean effective pressure. This requires high charge-air pressures not achieved through current single-stage turbocharging. Two-stage turbocharging enables the charge-air pressure to be increased substantially while simultaneously reducing exhaust emissions, despite the increased specific engine output. The new generation TCX series of turbochargers are especially aimed at two-stage turbocharging. It is based on the proven design philosophy of the TCA/TCR-series. MAN intends to offer the first engine with two-stage turbocharging in the course of this year. The charging pressure will increase from current 4 bars to 5-6 bars.
A complete range of TCA axial and TCR radial turbochargers are now available for both two and four-stroke engines complying with IMO Tier II emissions legislation. The new higher performance IMO Tier II turbocharger versions retain the same external and connection dimensions as versions for IMO Tier I compliant engines. In this way, no changes are needed to the existing turbocharger mounting arrangement when upgrading an ongoing engine series to IMO Tier II compliance. 
The latest TCA and TCR turbochargers with a variable turbine area, VTA, allows the amount of air compressed by the compressor wheel to be flexibly varied. The charge air can thus be more precisely matched to the quantity of fuel injected optimising the combustion at all the engine's operating speeds and loads. By matching the flexibility of MAN's electronically controlled fuel-injection systems, common rail, minimizes fuel consumption and related emissions. The VTA technology can be applied on new turbochargers or retrofitted on existing units. VTA has proven very efficient for slow-steaming, operating the vessel with lower speed to save fuel. MAN Diesel & Turbo has successfully introduced the VTA technology on large turbochargers with both axial and radial turbines for installation on large diesel engines burning heavy fuel oil.
Earlier this year, the company announced it has agreed, with Daewoo Shipbuilding & Marine Engineering Co., Ltd., to jointly develop and exploit the adaptation of Daewoo's high-pressure cryogenic gas-supply system for installation with MAN B&W ME-GI gas-injection, dual-fuel, low-speed diesel engines. The company notes that while LNG carriers carry a gas cargo, the potential for carrying gas aboard other vessel types is currently subject to a parallel development, for which a cryogenic gas fuel-supply system can be used. By end 2010,
a full-scale demonstration and performance verification test of the GI principle is to be made on its 4T50ME-X R+D test engine, to be rebuilt as a 4T50ME-GI engine. The potential of this development is big.  Applying the technology on a 14,000-TEU containership could, according to the company, reduce annual operation costs by some USD 12m. Moreover, SOx, NOx, applying the company's technologies EGR or DeNox, and CO2 emissions, would also be reduced.
Other developments taking place include that of an exhaust gas recirculation (EGR) system which has been able to reduce NOx emissions by 70 percent on a 4T50ME-X low-speed test engine, to be tested in full scale on container vessel Alexander Maersk this year. Also fuel/water emulsion applications and scavening Air Moistening systems, WIF and SAM respectively, are being tested as part of MAN Diesel & Turbo's Danish R&D operations.
Tough financial year ahead
The previous quarterly report notes, for the Power Engineering business area, that operating profit over the rest of the fiscal year will be impacted by a decline in capacity utilization due to the recession. Nevertheless, the report says, earnings quality will remain at a healthy level in 2010 due to the existing order backlog and the cost reduction measures that were introduced in the previous year. In the first quarter of 2010 the order intake at MAN Diesel &Turbo SE increased by 20% to EUR1.032m (previous year EUR863m) mainly due to an order of a power plant for Brazil. The 48% increase in Engines & Marine Systems order intake, to EUR446m, was mainly attributed to organisational changes. The revenue in the first quarter was EUR864m (EUR861m last year). The operating profit declined by 15% to EUR102m. The order backlog at the end of March 2010, for MAN Diesel & Turbo SE, stood at EUR4,634m (EUR4,422m at the end of year 2009 and EUR5,924m at end 2008). The company has a staff of some 12,500.
Regardless of the low business volumes on the marine market, MAN is confident that it can use the power plant business and its substantially expanded range of after-sales services to offset most of the decline in new marine construction orders, and is forecasting a revenue level that will be approximately in the range of the 2009 figure. Due to the decline in capacity utilization operating profit will be considerably lower than in the past fiscal year, but will remain above the company's target return on sales of 8.5%.
"We have still our licensee model and a huge backlog which, however, is slowly melting down," Stahlmann reflects regarding the maritime business segment. "We are still participating from both. I think that gives us a huge advantage towards our competition. We have a licensee model which certainly helps us, which is very effectual. We do not see a big move in this market."
Klaus Stahlmann, CEO of MAN Diesel
& Turbo
SE, is also a member of the Executive Board of MAN SE, the holding company. He previously chaired the Executive Board of MAN Turbo AG. He graduated as an industrial engineer in Darmstadt in 1986, and has a background from management positions in several big industrial companies, among them Krupp, Allweiler and NSK. Stahlmann spent his childhood living in various countries in South America.