Jeffrey Joyce
Director, Operational Training – British Columbia Ferry Services, Inc.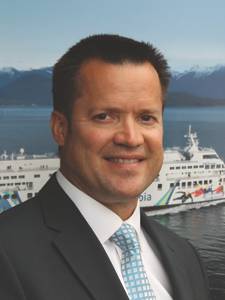 A native of British Columbia, Jeff Joyce was accepted into the Canadian Navy in 1983 through the Regular Officer Training program and progressed through his post-secondary learning (B.Sc UBC) and Naval education, graduating from both in 1987. He completed his Certificate of Competency as a Bridge Watchkeeper, and then qualified as a Navigating Officer. Throughout his Naval career, Jeff excelled in many operational roles, but always felt most fulfilled when involved in training and education. He taught navigation and operations as a young Lieutenant, and then returned to the Naval Officers Training Center as the Senior Instructor and Head of Department. While so employed, he returned to school and completed his MA in Leadership and Training at Royal Roads University in 2003. After a 6-month stint as the Canadian Commodore's Senior Watchkeeper for Coalition Forces during the Gulf conflict, Jeff proceeded on exchange for three years with the Australian Navy. Subsequently, after successful tours at sea as Executive Officer of HMCS Calgary, and as Assistant Chief of Staff for the Commander of Maritime Forces Pacific, Jeff took retirement from the Canadian Navy just prior to his current appointment as Director, Operational Training for British Columbia Ferry Services, Inc.



Training initiatives are always more successful when led from the top. Talk about your leadership style.
I couldn't agree more – and to me, 'led from the top' also means 'supported at the very top' as well. Without the CEO's buy-in and advocacy, building sustainable training programs would be a serious challenge indeed … fortunately this is a non-issue at BC Ferries. I do my best to lead with transparency and sustainability as my mantra, as I go through some semblance of the following steps:
•    Know the people
•    Clarify the objective
•    Facilitate the vision
•    Support the process
•    Challenge the team
•    Make it fun and keep it fun

What are some of the challenges with respect to training at BC Ferries and how do you address them?
BC Ferries is a large company with 35 vessels operating on 25 routes out of 47 terminals spread over 1,000 miles of coastline. With this much complexity, you can likely appreciate that the training demands are broad and deep in nature. My goal for the department is to provide relevant and sustainable resources to our training clients, which is accomplished through a three-pronged approach:
•    Maintain a virtual Academy to provide training calendars, career path information, training schedules, training resource material, etc.
•    Harness the collective wisdom of our employees by seeking out those with the experience, attitude and aptitude as Trainers. These volunteers are then equipped with Train the Trainer courses and adult education principals as well as ongoing mentoring support.
•    Seek external expertise and partnerships that will benefit our training programs. We are partnered with local marine and community colleges and oftentimes, a fresh perspective is what's needed to make a breakthrough in training.


What are the major training initiatives you are working on at BC Ferries? Why did you start with these?
The department manages over 95 training programs, but here are two examples:
•    Bridge Team Simulation program, which started delivering curriculum in October 2011. The equipment for this program includes Kongsberg simulators located in three of our major terminals, the associated visual databases and hydrodynamic models and three full-time Master Mariner instructors. Since October 2011, we will have delivered over 40 separate two-day courses.
•    The Standardized Education and Assessment (SEA) project is about 50 per cent complete and continuing to gather speed and accolades along the way.
We wanted to roll out programs that would be immediately impactful to our employees and address the highest areas of risk in our operations. Navigating vessels through constrained coastal and pilotage waters enroute to terminals of a wide variety of shapes and sizes within which tens of thousands of passengers embark and disembark every day necessitates training programs that are flexible, relevant, sustainable and provide the best value for effort. The Bridge Team Simulation program ensures a zero-risk environment while providing the bridge teams structured opportunities to hone their individual and team skills in simulated environmental conditions. The SEA program generates customized familiarization programs that are specific to the job, vessel, route, and/or terminal in question. Its Learning Management System facilitates this dynamic generation of learning material and leverages the advantages of a blended learning approach.


What is SEA, and what are its goals?
Prior to SEA, job-shadowing was the approach to familiarizing employees with their job. This had inherent problems including lack of standardization, inconsistencies in delivery, and a general lack of structure. The intent of SEA is to address those issues with a web-based, structured, blended approach to learning. SEA consists of several phases as laid out below:
Phase 1 – Self-study – the student is given access to an online resource that focuses on the Fleet-wide information.
Phase 2 – Onboard education – a blended learning approach is used here, whereby the trainer follows a structured agenda with the candidate. The information is specific to the vessel (or terminal), the route and the job. A Practical Consolidation phase is included here where the candidate hones practical skills and learns the practical routines they will soon be following.
Phase 3 – Clearance – this is the assessment phase – the candidate must pass a number of tests, including written, practical and oral.
Phase 4 – Continuous Improvement – this phase is broken down into an initial skill enhancement phase, during which the now-cleared employee is continuing to learn and has a structured checklist of activities that must be completed. The second phase provides a path to promotion and includes a custom set of developmental courses as appropriate to the position.


A "Standardized Education and Assessment" (Program) assumes that employees are benchmarked on their performance-based testing. Tell us about that.
Benchmarking and assessment in the SEA program is conducted in every phase of the program using a multi-modal strategy and blended learning approach. Phase 1 involves objective, multiple-choice self-assessments and a summative exam are randomly generated by the LMS for the self-study phase. Phase 2 involves onboard or on site education, managed by the trainer who creates an agenda that ensures all relevant learning material is delivered. Additionally, the learner has the "Coles Notes" version of the learning material from which to study. During the Practical Consolidation phase, an approved checklist is provided to the candidate to help lead them through their new routines and duties. In Phase 3, the candidate is assessed using both an objective randomized written exam as well as the more subjective assessment of the candidate's practical skills and responses to a series of verbal scenarios. Finally, a series of checklists that are specific to the rank and department lead the candidate through the Skill Enhancement and Career Progression phases. We will be developing an online Career Progression tracking tool over the next year to add greater transparency to the managers and leaders as their employees progress through these stages enroute to higher positions in the company.


How many trainers do you have, and how do you support them?
The Company has over 160 part-time trainers right now and that pool continues to grow as SEA rolls out across all four operational lines of business (Deck, Terminals, Catering, and Engineering). The candidates are put through a selection process and are then supported by attending regular training conferences and Train the Trainer sessions. Additionally, the SEA program has an associated SEA Trainer Community linked to the Learning Management System (MarineLS), which is continuing to gain momentum and utility as the trainers turn more and more to this community for resources, support and collaboration with other trainers.


How do you measure the ongoing success of the SEA program?
The LMS associated with SEA does most of the number-crunching work for us. The Learning Logs and Analysis section of the website tracks a myriad of metrics for us that really streamline our assessments of success and areas for improvement. Additionally, my staff gathers feedback on an ongoing basis through our traditional means, ie. trainer conferences, feedback forms, and surveys. Finally, the Trainer Community is really gathering momentum in this regard as well. It facilitates online discussion, collaboration, polling, and questionnaires.


Do you see this blended learning approach being applicable broadly across the marine industry? If so, could it be codified or made part of a regulatory protocol?
Most definitely – I cannot advocate this strongly enough. The marine industry has a history of pulling its learners up through the hawse-pipe in what is rarely a nurturing and forward-looking way. A blended approach that combines online material and examination combined with face-to-face practical learning and demonstrations housed within a sustainable LMS will, in my opinion, always result in greater retention of learning for the candidate, greater confidence in the skills and knowledge of the graduates for the Company, and greater sustainability and transparency of process. There is no reason that structured familiarization programs like SEA, supported by MarineLS or equivalent LMS couldn't be codified. In fact, SEA and its LMS would likely make codification much simpler as all competences are clearly articulated and then supported by appropriate learning material.