Emily Shimada
Student, California Maritime Academy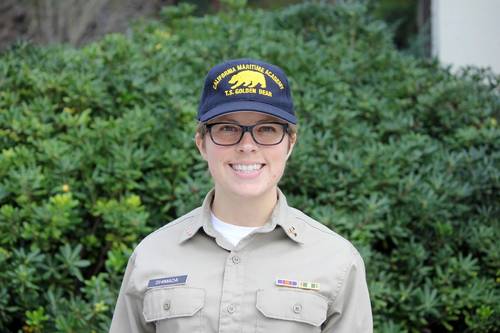 MarPro's Future Leader Series
Emily Shimada
California State University Maritime Academy
Major: Marine Transportation / license track cadet

Why this school?
Cal Maritime was the only maritime academy that combined rigorous academics and hands-on vocational training with opportunities to engage in oceanographic research. 

What keeps you here?
The amazing faculty continually inspires and motivates me to learn and do more; also, I am very active with clubs and initiatives on campus and enjoy doing my part to try to make this community stronger.

What is your major and what career do you intend to pursue?
I am majoring in Marine Engineering Technology with a minor in Marine Science. Upon receiving my license, I want to sail and, in the meantime, I am preparing myself to be the best candidate, whether that vessel be commercial or research.

What one thing should prospective employers know about you?
I'll bring a positive attitude and a sturdy pair of work boots.

Tell us about your at sea training or internships – who did you work for or sail with?
After a two-month training cruise with Cal Maritime, I was awarded the Golden Wrench for excellence as a freshman engineer. I am also a recent recipient of a CSU COAST grant supporting my research into the health of local aquaculture. This summer I will be joining the Calhoon MEBA School for a three-week accelerated course in professional certifications.