Carly Mayhood
Graduate, SUNY Maritime College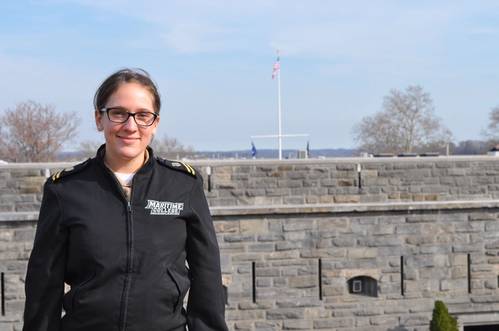 MarPro's Future Leader Series
Carly Mayhood
Senior at SUNY Maritime CollegeMajor: Naval architecture with a minor in marine environmental science*Carly has recently graduated.
Why this school?
I thought I wanted to do marine biology, but I took a year off after high school and really thought about it. I'm really into math and physics, but I also love to draw. I put those things in a pot and swirled it around and came out with naval architecture. I was looking for coastal schools and put in marine design and that's how I found this place.
What keeps you here?
For me, SUNY Maritime is a great fit. I came in older and had been living on my own for a while, so the structure really helped me. You really have to think about how you spend your time and what you're going to get out of it. I still walk by the training ship and see people rowing monomoys and just stop to think, 'Wow, this is my school, where you get credit for things like that.' A day never goes by that I don't realize how unique this place is.
What is your major and what career do you intend to pursue
?
I'm studying naval architecture with a minor in marine environmental science. There are a lot of avenues for naval architects. You can do ship design, but you can do everything from luxury yachts to cargo ships. You can work for a salvage yard or you can manage a shipyard, where you monitor the progress of a build. If I had my dream job, it would be designing Arctic or Antarctic research vessels.
What one thing should prospective employers know about you?
I really am academically strong and curious. Every single day, I go to class and I learn one thing that opens up a dozen other questions. I love having access to people who can constantly broaden my perspective.
Tell us about your sea training or internships.
I participated in the cadet-shipping program with Norwegian Cruise Lines. I worked on the Pride of America on its island-hopping cruise around Hawaii. I was partnered with a second engineer and we would work on routine maintenance on purifiers and motors and fuel injectors and that kind of thing. The space in a cruise ship is so intimidating because there are five redundancies of everything so they can ensure the ship keeps running. But you take it one piece at a time and all of sudden it's not so intimidating.