Bret Argir
Student, Great Lakes Maritime Academy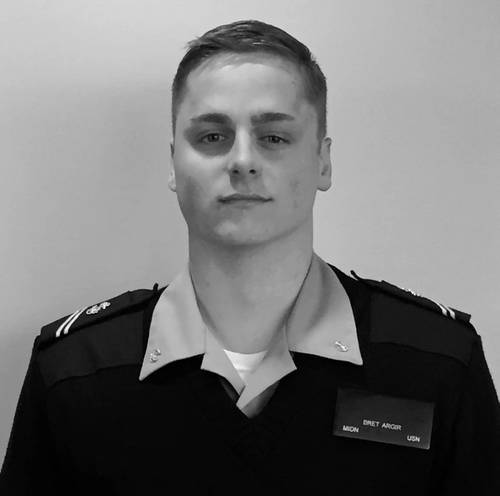 MarPro's Future Leader Series
Maritime Professional's
newest feature – both here online and within the pages of our quarterly print magazine – involves highlighting the profiles of today's maritime academy cadets from around the country. These cadets and students represent a large subset of the future professionals who will one day provide the leadership, innovation and technical expertise for the greater waterfront – here and abroad. We'll do this in sequence, working with those schools that choose to participate.
In a nutshell, the profiles will let readers and employers know who is coming up; it lets the students themselves shine a bit and gives the academies a chance to showcase their best and brightest. The profiles center around five questions for each student – we call it "five questions in five minutes."
Our next featured cadet is showcased below:
Bret Argir
Great Lakes Maritime AcademyGraduation Year: 2017
Why this school?
I chose to accept a seat in the class of 2017 at the Great Lakes Maritime Academy to pursue a lifetime desire to make a career on the water. I was surrounded by the maritime industry when I was raised in Florida. From an early age, I knew I wanted to become a deck officer in the Merchant Marine. The Great Lakes Maritime Academy stood out from the other five maritime academies to me because of their superb passing rate of licensing exams as well as the additional licenses. Upon graduation, I will possess an unlimited tonnage license for the great lakes and oceans, as well as first class pilotage on the great lakes. This I believe allows for a broader range of options for employment after graduation which I can only benefit from.
What keeps you here?
I have continued with the deck officer program at the Great Lakes Maritime Academy because it has proven to be an academic atmosphere that has fostered growth for its students in both the deck and engine department. The low student-to-facility ratio allows instructors the time to address any issues I may encounter. The Strategic Sealift Officer Program has been an excellent opportunity that has proven to challenge me both mentally and physically. The values and ethics that are instilled in and expected of midshipmen have developed my leadership skills that I will practice as a future deck and naval officer.
What is your major and what career do you intend to pursue?
I am pursuing a Bachelor's of Science degree in Maritime Technology as well as a Bachelors in Business Administration from Ferris State University. I intend to sail on the oceans upon graduation because of my love for the sea. Building practical experience and sea time is my main focus after graduation, with the final objective of becoming a Florida Harbor Pilot.
What one thing should prospective employers know about you?
I strive to be a standout not only in the classroom academically, but as well with practical knowledge and experience. I am grateful for any opportunities that are presented to me and will work my hardest to earn the approval and respect of my superiors. 
Tell us about your sea training or internships.
After the completion of my freshmen year at the Great Lakes Maritime Academy, I sailed on the Training Ship State of Michigan. This trip encompassed sailing to the numerous ports located on each of the great lakes. This was a unique experience that expanded my understanding of the merchant marine and the diverse shipping industry on the Great lakes. During my sophomore year, I applied to numerous shipping companies on the great lakes seeking a deckhand position for the duration of my Christmas break. I was offered a deckhand relief job from Central Marine Logistics for 30 days of my 31 day break. I jumped at the opportunity to introduce myself to the commercial shipping industry as well as an opportunity to expand my deck seamanship skills. The experience and knowledge I walked away with is something that couldn't have been provided to me in the classroom. For my first commercial sea project I sailed with Military Sealift Command for four months. I sailed on the newly christened Joint High Speed Vessel Fall River as well as the Replenishment Oiler the USNS Yukon. The time I spent as a cadet with MSC gave me the opportunity to observe and participate in a broad spectrum of everyday vessel operations that are unique to MSC. The willingness and determination of the unlicensed and licensed crew to help me better understand vessel operations and job duties will be something I will always look back upon.