Björn Rosengren
President and CEO, Wärtsilä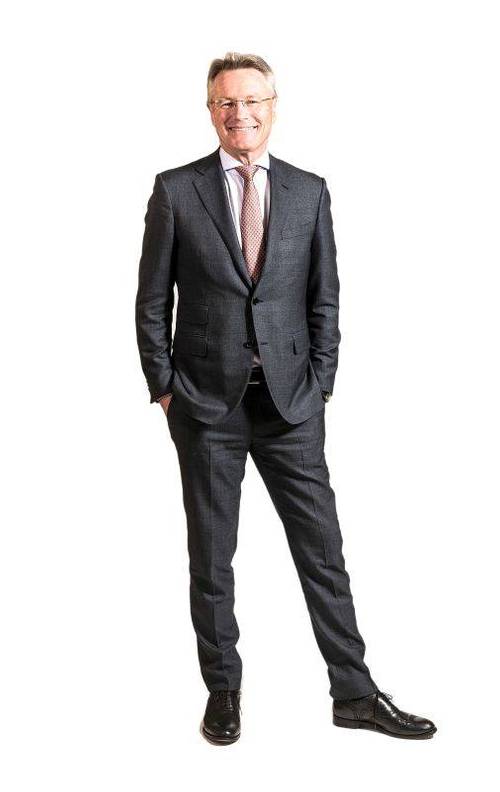 By Greg Trauthwein
Wärtsilä President & CEO Björn Rosengren was beaming at the introduction of the Wärtsilä 31 to the world at Norshipping 2015, but in a one-on-one on the sidelines he had more sobering yet pragmatic view regarding current market conditions and the path forward to this marine power conglomerate.
"It is clear that Asia has been a driving force for some time, though we are now starting to see a slowdown in China, which affects global industry," said Rosengren. "We have seen a lot of improvement in the United States, with the GDP and the impact of the Shale Gas revolution. Europe has been very tough for some time,and market has been tough since 2008, but I think the market has adapted, with a focus on efficiency and lowering operational costs."
The lingering low price of oil is having a greater impact on Wärtsilä business than a China slowdown, as the company is heavily involved in the offshore sector. According to Rosengren, only two years ago roughly 40 percent of its ship power business came from the offshore sector, shrinking last year to 28 percent; shrinking further to 11 percent during the first quarter of 2015.
"It is definitely affecting our business, because offshore is an important part of our business," said Rosengren, noting that Wärtsilä counts business in the offshore sector not just from the offshore operators but all of the surrounding and supporting industries. "Too low oil pricing will stop a lot of projects, and the investment climate becomes less attractive." 
He notes that the low oil price has provided a modicum of relief on shipping companies that have struggled in recovering from the world economic collapse of 2008 – particularly with required investment to run cleaner operations – but that the contracting activity for new commercial vessels is low at the moment.
"Today we talk a lot about efficiency, where as before 2008 we talked about capacity." Many positive things have happened since 2008 as companies have laser focused on efficiencies and cost management, while cutting environmental impact. "Many successful shipping companies have managed to lower their operating costs significantly, helping not only the companies but the environment, as fuel efficiency equates to lower CO2 in the atmosphere.
Balance
When looking at Wärtsilä in total, approximately two-thirds of its business is maritime related, a high percentage exposure to a notoriously cyclical market. But Rosengren credits the global economic meltdown of 2008 with the silver lining of learning to do more with less.
When addressing the realities of the new marketplace, Rosengren is blunt: "I don't believe in miracles. We learned from 2008 that surviving in tough times means adapting your organization, ensuring that you are strong in niches where things are happening  … you have to bet on the right horses. I think where we are now, since 2008 is the new normal. You have to learn to survive and develop in the business climate that we have today."
Part of this adjustment for Wärtsilä was the broadening of its base, a products and services growth both organically and via acquisition that has fast-tracked its evolution from an engine builder to a complete maritime and offshore systems solutions provider. In step with this strategy was a major emphasis of focus on aftermarket sales and service, which today accounts for approximately 50 percent of its annual business.
"The service business  gives us stability; it gives us daily contact with all of the customers; and it is also the most profitable part of the business," said Rosengren. "There are still areas in the marine industry that are doing quite well. Gas, the LNG side has been fantastic. A huge number of vessels have been contracted with many more on the way. When we talk about gas at Wärtsilä, we become a little bit excited. We love gas. We think this is the fuel of the future."
Ultimately though, the positioning of Wärtsilä as a one-stop-shop, life-cycle sales and service solutions company to its power hungry clients is the key to long-term survival and prosperity in fickle markets.
"We are a solution company, to help our customers enhance their businesses," said Rosengren. "We take a life-cycle approach, meaning that the service business comes into everything that we do.  It means we want to work with equipment to make sure it is running efficiently."
Steady
Investment
For technology companies such as Wärtsilä, taking the long-range view is necessary particularly when times are tough, because when the market slows its is not prudent to stop investing on new technology.
"We are investing as much as we did before the crisis; 3 percent of our turnover today goes to R&D, and we make sure that we do not cut from R&D when we are cost-conscious. Innovation and new product development drives growth," said Rosengren. "If you look at Wartsila today, we would not be where we are today without a lot of good innovations which were done a number of years ago."
Part of this innovation is, of course, the introduction last month of the world record breaking  Wärtsilä 31.
"The whole development process for this engine was different than any that we have done before. It is building on the digitalization in the design phase. You can design an engine today, digitally, before you build it," said Rosengren. "What we have done in this phase is we tested components and single cylinder modules for thousands of hours before we built the engine. This is totally new for us. When we were confident, we put the engine together and then for the last two years we've been testing it more than ever before. It's a new way to design and build and engine. Reliability and efficiency were the drivers for this."
While planning to maintain spending is easily said, when the market turns sour it can be a tough path to maintain. "The world is moving increasingly toward environmental awareness and caution, but nothing will happen without regulation," said Rosengren. "For us, this is a business opportunity; helping our clients to become more sustainable, but we don't do it for charity. (But make no mistake), it is pure business. As we invest millions to develop the products needed, we need to realize a return on this investment."
To that end he said that market conditions are the biggest challenge he sees to his business' efficiency and cost effectiveness."We have a good crew and innovation, but in the end you need to have a successful and profitable industry to drive innovation. If the industry is successful, if our customers are making money, they are investing."
(As published in the July 2015 edition of
Maritime Reporter & Engineering News
-
http://magazines.marinelink.com/Magazines/MaritimeReporter
)