Admiral Paul Zukunft
Commandant of the United States Coast Guard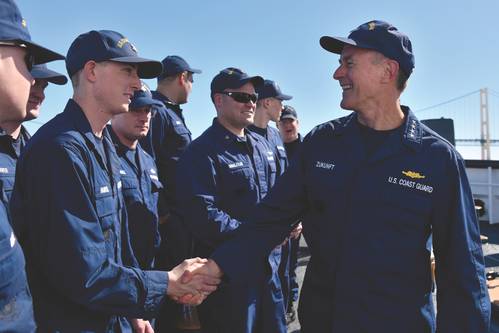 People Are Most Important
By Greg Trauthwein
The Commandant of the United States Coast Guard has a lot on his plate: Enacting the USCG strategy in the Arctic; Helping to stem illegal drug flows; Thwarting the growing cyber security threat; Working to ensure Rights of Navigation in several global hot spots … the list goes on. But when talk turns to his top priority, Admiral Paul Zukunft does not hesitate to name 'people' as one of his highest priorities … more succinctly, the attraction and retention of an increasingly diverse, intelligent and skilled workforce to drive the United States Coast Guard through the next generation.
Stuff 
If you talk about the U.S. Coast Guard, talk can quickly turn to 'stuff,' as USCG commandeers fleets of maritime and aerial assets employed to keep U.S. waterways safe, navigable and secure. A big part of Admiral Zukunft's job is ensuring that the U.S. Coast Guard is adequately funded and directed to acquire the systems and products needed to accomplish myriad missions for the coming generation. In this regard, Admiral Zukunft professes optimism, pointing out that the Coast Guard acquisition budget in 2016 doubled: the best acquisition budget ever for the nation's fifth, uniformed military service. 
With this portion of the operation in check, he stresses the importance of people to the Coast Guard's continued success. "What I can't take my eye off the ball on is the most critical element: people," said Admiral Zukunft in an interview last month. "We must continue to invest in our human resource capital, not just recruiting, the training, but more importantly, the retention of that work force, as well. You can have all the great tools in the kit, but if you don't have that human resource capital, it could be a potential train wreck for us."
While the level of talent entering the Coast Guard is at an all-time high, Admiral Zukunft maintains that real success comes in not simply finding good people, but keeping them; a trick made increasingly difficult when the private industry companies come calling.
"The talent that we are drawing to the Coast Guard today is nearly unprecedented," said Admiral Zukunft. (Our Coast Guard Academy) is now at its most diverse point than it's ever been in the history of the Coast Guard. The last two classes came in with 40 percent women, 33 percent under-represented minorities, their SAT scores, their GPA, their athletic capabilities, and their hunger to serve our nation is like I've never seen before. So as far as bringing talent into the Coast Guard, that is a great sign."
Keeping Them In
While the modern Coast Guard has seemingly become more adept at attracting top talent, Admiral Zukunft said that simply is not enough, with holding onto top talent for the duration of their career the goal. "We are going for the top 10 percent, not the bottom 5 percent, and it should come as no surprise, Silicon Valley is going for that very same percentile," he said, noting that the uniformed services are prime poaching grounds for private companies. "If they can't find it in our high schools and colleges, then they'll look to the uniformed services – folks with background clearances, tremendous work ethics, integrity, and they'll be more than happy to hire them out from under us. So how do you retain these folks … how do you build that brand loyalty? I go back to some of my initial foundational experiences as a junior officer, (experiences) that caused me to say, 'I am all in. This is what I will do for the rest of my life or as long as they let me serve in the Coast Guard.'"
That is the conundrum: getting that same level of commitment, that sense of belonging that isn't as much about a paycheck as it is about that commitment; that sense of accomplishment that you can only get by serving in the Coast Guard. "Because I can't get in a bidding war with mid-grade, enlisted members against the private sector that may double or triple what someone may make in today's Coast Guard," said Admiral Zukunft.
One key to keeping good people is a change in lifestyle, namely reducing the amount of moving of people from post to post. "We are a workforce of itinerant workers. I think I've moved 21 times since I've been in the Coast Guard. So when I start looking at our female commissioned officers, and it's great that we have great numbers coming into our workforce, but at 10 years of service, we lose nearly 50 percent of them. And so what are the dynamics that cause our female officers to leave the service?," asks Admiral Zukunft. "Can you have it all? Can you have two successful careers, can you raise a family, and can you do that leapfrogging all over the country every two to three years? And so one thing we're doing is that maybe we don't move people as often as we do."
That reward is geographic stability. 
"There used to be a stigma (with not moving as much) … we used to call it "homesteading," said Admiral Zukunft. "There are actually benefits to not moving people as often. One, it helps the family. Two, we work hand-in-hand with the communities in which we serve, especially across the emergency response community. And three, it saves a lot of money: money that we don't have to move people." He said the benefits and savings really start to pile up if you add in money saved in recruiting and training. "So that's really the essence of the human capital strategy – we need to be a more specialized workforce."
So with all of the talk surrounding the Coast Guard's 'stuff,' – including its new Offshore Patrol Cutter and the recapitalization of the heavy icebreaker fleet – the real key to its future is much simpler. "Oftentimes we say it's about acquisition, about buying the new stuff; I've been very optimistic about our ability to acquire new things, but that's just hardware," he insists, adding quickly, "What really makes it all work is the people and the quality of those people, as well. At the end of the day (it is how) you remain that employer of choice. And I am a little biased, but I think the Coast Guard is a pretty darn good place to make your legacy."
(As published in the Q2 2016 edition of
Maritime Professional
)