Boldness is Tacoma's friend
The north-west port aims high over the next 10 years.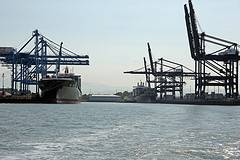 Two smaller north-west ports are getting ready for serious competitive action, with Tacoma going further and putting the gloves on to duke it out with its bigger rival 30 miles north.
Puget Sound's second port has produced a development plan for the next 10 years that can be described, without being accused of hyperbole, as extremely ambitious. Container volumes are expected to double by 2022 to 3 million a year, breakbulk to rise 30 percent to more than 200,000 tons (this figure is open to debate because of differences in defining breakbulk, with more becoming containerized) and vehicle imports by 20 percent. On the financial side net income is slated to rise a whopping 50 percent, operating margins 30 percent and return on   assets 35 percent.
Clear, concise and direct (and a model that Los Angeles should follow). But the real secret of those figures is that there is only one way this can be achieved – by taking a serious slice of business away from Big Brother Seattle. And Seattle is bound to be planning to ramp up its own performance.
Which means that Tacoma already has a shrewd idea of  where its competitive advantage lies, but is obviously not about to tell its rival, while also kicking in with new projects. One possibility has just been announced – a potash and iron ore export terminal (on the site of a former aluminum smelter). But there has to be something else on the drawing boards to ramp up containers and achieve the hoped-for profit margins.
At the moment, the trend does not look all that rosy for containers. Latest figures show that although March was up by 2 percent, the volume for the first three months of the year is still 2 percent down on the same period in 2011. The other sectors are looking much better, which is to be expected in the light of increased raw material exports from the US generally.
One hopes that Tacoma has taken a realistic approach to its future and events do not turn out to be a case of hope trumping reality. Port analysts should be keeping an eye open on the activity in the next couple of years.
Down the coast and up the Columbia River, Portland reckons it could have a much better future from coal exports and last year handled 13.4 million tons of all types of cargo, the third highest volume in its history. Politicians and port officials alike reckon this year could be even better.