Geoprober Drilling - Innovative Deep Water Drilling and Well Intervention
The purpose of the Geoprober Drilling System (GDS) is to reduce the cost of acquiring G&G data for exploration activity in deepwater by 50%.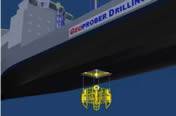 They plan to achieve this by establishing a well in a one trip operation. This speeds up operations and improves data acquisition options and reduces the environmental impact of exploration.
Geoprober Drilling was established in 2004 as a new kind of data acquisition drilling contractor, specialising in deep water exploration in areas such as West Africa, Brazil, India and the Far East.
Geoprober is currently developing a deep water exploration drilling system deployed from a mono-hull vessel on a (JIP) Joint Industry Project funded by Chevron and StatoilHydro.
The company has an engineering team based in Aberdeen, Scotland (UK) designing and building an unique modular deployment system that enables smaller multipurpose vessels to carry out heavy deepwater operations such as drilling, riser intervention, construction and pipeline installation and recovery.
On a recent study commissioned by Shell Oil, Geoprober Drilling demonstrated the feasibility of deploying the proposed system for deep water well intervention.
The success of the new technology is based on the Subsea Reverse Derrick, where the heavy loads are suspended and handled below the keel of the vessel, greatly improving its stability.
One of the main limitation for small multipurpose vessels to successfully carry out deep water operations lies on the Safe Working Load of its handling system.
The handling systems on most vessels suspend the loads at significant height creating stability problems and greatly reducing the operability envelope and capability of such systems.
Vessel stability is a complicated aspect of naval architecture which may be simply defined as the tendency of a floating vessel to return to its original upright position of equilibrium after being tipped by the forces of wind and sea.
In order to maintain its stable upright position a vessel's Centre of Gravity must lie vertically below its Metacentre on the Centre of Buoyancy line. Therefore, suspending heavy loads at heights is not ideal and imposes limitations on the vessel capabilities.
The complete system consists of two structures coupled by means of an eight fall rope system with an intermediate keel moonpool rope management system.
The Tension Frame lowers and raises the loads that can also be suspended at the drill floor while the Tension Frame freely travels up or down around the pipe.
Geoprober completed a feasibility study for Shell Oil demonstrating the operability of their Deep water Deployment System for coiled tubing well intervention in the Gulf of Mexico.
The analysis was carried out for water depths of up to 2,500 meters using an existing 7in FMC riser system. The study also included a complete vessel stability analysis carried out by the Department of Naval Architecture & Marine Engineering of the University of Strathclyde, Glasgow, UK.
Another interesting product developed by Geoprober is the Geoprober Shut-off System (Geo-SoS), a combined casing hanger, well head and emergency disconnection mechanism.
It is divided into five main components - the Template, the Lower Geo-SoS, the Hydril Quick Lock rams, the Re Entry Hub and the Subsea Control System.  A prototype based on a 51/2" casing has been built and fully tested.
Slimming the well architecture significantly reduces the size and weight of the equipment thus reducing size and cost of the deployment vessel. The resulting system provides a low cost alternative to drilling with 5th and 6th generation drillships and semi-submersibles.
The company has adapted some of its technology for other uses, such as deep water well intervention with a riser, a sub-mudline shut-off system for the Arctic and a well abandonment system for the North Sea.
The only other company I know to be working somewhat along these lines is SLB, which happens to be a giant in the subsea sector and may or not offer all the solutions envisaged by Geoprober.
As we come to the end of a decade (and the begining of a new one), it feals quite refreshing to see a small company such as Geoprober Drilling come up with such simple solutions to huge subsea control and aquisition problems. I truly believe they are a great example to other up and coming companies working on subsea solutions and that their brilliant work will innevitably be of great importance to future subsea operations.
Although there is no information on planned use of this technology in Brazil. I would risk saying that both Chevron and Statoil must be looking into the possibility. The technological subsea solutions developed by Geoprober appear to fit nicely with some of the problems faced by players in the Brazilian pre-salt fields.
Happy 2010.
Claudio Paschoa
Photo courtesy Geoprober Drilling