Long Beach Blows a Raspberry at Local Politicians
The demand for more money is met by a 'Get outta here.'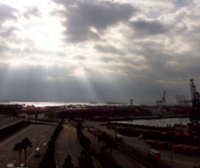 The principle of "One hand washing the other" might apply to Washington bureaucrats and politicians, but Long Beach port authorities are having none of it.
The angst over the LB city council demanding an extra dollop of cash from the port for the Tidelands fund continues, with the port commissioners agreeing to $12 million now (from the fiscal 2009 budget) but only offering to "accelerate" the second tranche, due to come from the forecast 2010 revenues.
The port says: "the audit for fiscal year 2010 should occur as soon as possible after it ends Sept. 30, 2010 – possibly as early as December 2010, so that the amount of the recommended transfer can then determined. These recommendations are expected to come before the Board at a future meeting in the form of a resolution."
A logical reading of this polite terminology is that the harbor commissioners are telling the council where to get off.
The commissioners then rub salt in the wound. "As residents we're very understanding of the budget troubles City Hall is facing. So we are doing all we can to help. We'll be transferring the 2010 funding as soon as we are allowed, under the requirements of the City Charter," said Nick Sramek, President of the Board of Harbor Commissioners.
Maritime veterans will be cheered by the principled stand the board is taking – and by the rude gesture being made to City Hall. But the defiance may not last long. Apparently, City Hall has the power to come up with an array of bureaucratic and legal tricks to force the handover of extra boodle.
If it does come to that, once the council grabs the money the next step will be to snuff out any remaining opposition and start agitating for the removal of Mr. Sramek and his colleagues. Expect some fun and games.
Possibly, this is being overly dramatic.  The Tidelands money can only be used for a specified range of city marina and beach services, with the port having shelled out about $150 million in the last 15 years.
Venal, successful politicians know when to let small defeats slide by, and this would qualify as the argument concerns only a small section of the city's operations. Ammunition would be stored up for a later quarrel, which the council would make sure it wins.