Shortsea is sailing under greater power
Virginia and San Francisco Bay get the barges going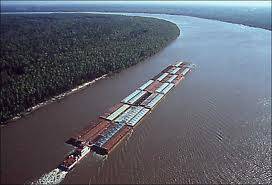 Potentially good news for US water-borne commerce. Shortsea shipping is again showing signs of renewed vitality.
The first barges on the Stockton to Oakland "Marine Highway" have made their trip, loaded with animal feed. But the project is still the equivalent of a see-saw, with just a slight difference in volume tipping the enterprise into profit or loss.
One estimate is that about 900 containers need to be shipped each week, giving a profit of 650,000. Count in depreciation and/or amortization and that drops to less than $20,000.
One surprising fact is that Stockton is counting on the service for a goodly part of its income. Port revenue in the year from July 1 is forecast to be almost $55 million, an increase of $17 million from this year. Nearly $16 million of that is reckoned to come from the Marine Highway.
Three points stand out that need emphasizing. The whole scheme came about because of $13 million from the U.S. Recovery and Reinvestment Act (a TIGER grant) and without that, wishful thinking would be all that is evident. Hedge fund managers and investment bankers, who seem to have taken control of the industry from mariners, would have dived in long ago if they thought it worthwhile – a sign that the project is indeed on a see-saw.
The second point is, what about Sacramento? That was always touted as the third point of a triangle but now is declared some sort of "Phase ll". I distinctly remember analysts saying about five years ago that Sacramento was essential, logistically and financially, for the service to work. The river port is going through its own turmoil, with dismal predictions being made about the future, and SSA being brought in on a management contract. There is probably no coincidence that SSA is also involved in the existing barge project.
The third point is that the barges returned empty on the first trip. One would have thought for PR purposes that some cargo would have been loaded.
About 2100 miles from Stockton, the I-64 Express in Virginia continues to trundle along, linking Richmond to Hampton Roads. A new customer is in the pipeline, which could double the number of sailings to six a day. (Like the Stockton service, the traffic is mostly one-way. And state transportation chief Sean Connaughton (former Marad boss) wants to extend the service to Philadelphia. Problems such as the shortsea portion of the Harbor Maintenance Tax have to be solved.
Connaughton is quoted as saying that shortsea is a "tough sell" and a "chicken and egg" situation. More chickens and eggs would be better for everyone.