Not all Western Seaboard ports are depressed about the future
Two ports, in Northern California and Washington, are more upbeat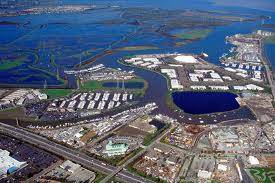 Northern California's commercial maritime operations continue to send mixed signals about the state of business. While Oakland is taking a downbeat perspective, nearby Redwood City is doing better and the Washington port of Longview is living up to its name with a new strategic plan.
For the financial year that ended on June 30 cargo volumes at Redwood City were up 50 percent to 1.3 million metric tons. Ship calls were up from 47 to 74 vessels.
A big building boom in the San Francisco Bay area is the reason for most of the increase, with a big rise in construction materials.
"The high quality of the sand and gravel aggregates from British Columbia combined with the dwindling supply of these materials in Northern California because quarries are unable to expand triggered a strong demand that the port benefited from," says executive director Michael Giari.
Imports of sand and aggregates were 844,370 metric tons, a 245 percent increase.
In Washington State, Longview has rolled out what it calls a five-year strategic plan but which is really a statement of intent.
Drawing on the latest in consultant-speak, the plan is heavily seasoned with concepts such as Strengths, Weaknesses, Opportunities, and Threats (SWOT) and phrases like "Improve Utilization of Existing Port Property" and "Prepare to meet future needs through expansion of the Port's land base".
 In among this are a couple of nuggets. The topic of most interest is Barlow Point, 280 acres that can support more than one terminal. Development of this to "shovel readiness" is the second goal of the section on land use, with the first objective being a land acquisition strategy. Another objective is to redevelop Berth 4 and scope out opportunities for Berths 1 and 2.
The plan is bound to create almost as many questions as it answers. Most importantly, speculation surrounds Barlow Point and the meaning of "shovel readiness." Clearly the environmental and bureaucratic paperwork will have been dealt with, but no indication is given of whether actual proposals/tenants will be corralled as well.
 A financial goal has been set to increase cash flow from marine terminal assets, which probably heralds a change in fee structure.
What the port calls the "land base" will be expanded, which presumably means more property being bought.
A new main office building is also being sought. After all, what's a strategic plan without new offices?