Fall line
The boundary between uplands and lowlands, punctuated by waterfalls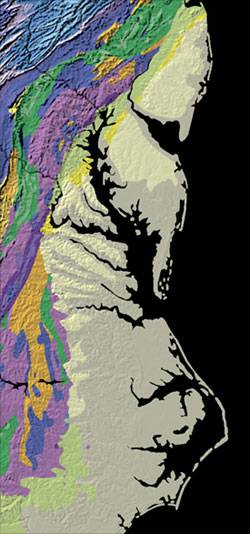 The fall line is a geologic boundary between two surface layers of earth with different levels.
The levels between the two layers are sufficiently different that a river flowing from the higher level to the lower level creates a waterfall.
The Atlantic coast of North America exhibits the longest and most prominent fall line in the world.
This Atlantic Seaboard fall line was a major influence on the European settlement of North America.
Ocean-going ships could sail up a river to the point of the falls.
Further movement inland was by foot or horse.
Smaller vessels could be constructed for operation on the upland portion of the river, but maritime navigation between the two portions required either portage or construction of locks.
The head of navigation, though, naturally became a terminus for commerce, where farm produce, timber, furs, etc. from inland areas could be consolidated for loading onto ships bound for European and other ports overseas.
The waterfalls provided a ready source of power for mills.
Frequently, these sites at the head of navigation evolved into major communities.
Examples include: Montreal (St. Lawrence River); Lowell, Massachusetts (Merrimack River); Hartford, Connecticut (Connecticut River); Albany, New York (Hudson River); Trenton, New Jersey (Delaware River); Richmond, Virginia (James River); and Augusta, Georgia (Savannah River).
The upland region is composed of relatively hard crystalline metamorphic rock, while the coastal plain of the inner continental shelf consists mostly of the sandy outwash of softer sedimentary rock.
In the United States, highway US 1 links most of the cities lying on the Atlantic Seaboard fall line.