The Maritime Professional- Energy Transportation Sector
This is your chance to nominate a colleague, friend, or peer for recognition in the pages of MaritimeProfessional Magazine. Submit your recommendation for the "Energy Transportation Maritime Professional" by March 31st, and your could see your nominee profiled in the Q2 Edition of MaritimeProfessional Magazine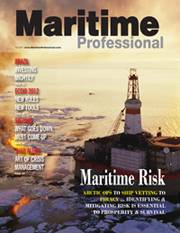 Each edition of Maritime Professional print magazine is focused on a particular sector of the maritime industry, with our 2Q 2011 edition centered on "Energy Transportation."
Each edition will also profile a maritime professional in that sector. We will select that individual, based in part on the recommendations of our 13,500+ online members.
Let us know of your choice by e-mailing Jocelyn Redfern at
jredfern@marinelink.com
or Managing Editor Joseph Keefe at
keefe@marinelink.com
.
Your input is due no later than 31 March 2011 and you must be a MaritimeProfessional online member to vote.